This year autumn is spoiling us. It would seem that September is behind us. Meanwhile, last weekend we put our watches back one hour. The children of the neighborhood, dressed as witches and ghosts, ran joyfully shouting "trick or treat", and we showered them with sweets to think about our nobles a bit later.
And although it is probably hard to believe it now, in a few weeks golden leaves will be replaced by frost, and walks without a hat will turn out to be a big challenge. November evenings, suspended between gold in autumn and winter, are a good time to think about… Christmas and how we will spend it this year. And it is worth considering as soon as possible, because there are more and more people willing to survive these days away from home.
Photo: Christmas atmosphere at the Long Market in Gdańsk
Holidays away from home - is it worth going and where?
Statistics and observations of employees in the tourism industry clearly show that every year an increasing number of people spend their time outside their home around Christmas and holidays. There are probably as many reasons as there are people leaving. However, the most common motivation is probably the desire to spend a good time with the family without having to make much preparations, but also the need to relax in a different scenery and do something different than before.
For some people, due to the days off, it is a good time for a short vacation, and the religious element can only be an addition, not an end in itself.
If you want to spend this time with your family, alone or with friends, in Tricity you will find both the spirit of Christmas and the magic of winter time. I have prepared a few suggestions that may be helpful. I also encourage you to do your own research.
Christmas Market in Gdańsk
The Gdańsk Christmas Market is an event with a beautiful, thirty-year tradition, and at the same time constantly developing and reaching for novelties. This year's edition will be richer with many additional attractions. It will start on November 19 and will last until Christmas Eve - 24/12/2021. For five weeks in the historic city center, we will have the opportunity to feel the unique, festive atmosphere.
Is it worth finding out for yourself? Definitely! The Gdańsk Christmas Market took third place, after Budapest and Vienna, in the "European Best Christmas Market 2020" competition. So there is something to watch.
Many tourists come here because of them. The stalls, because we are talking about them, will be located at Targ Węglowy and, at their premiere, on Tkacka and Bogusławskiego streets. For years, we have found unique items made by local artists and craftsmen. According to tradition, there will also be regional delicacies based on family recipes.
An interesting point of the fair will be the Santa Claus Gift Factory. This is where we will be able to find the official Christmas Market gifts and souvenir gifts from Gdańsk, including: traditional mulled wine mug, cards and socks.
Giving your loved ones a gift with a soul like this will surely be something special.
Photo: Venetian carousel in Gdańsk
There are also a few nooks and crannies at the Fair.
Families with children will surely appreciate "Mikołajowy Zakątek". A traditional Christmas tree of Young Gdańsk residents will be located here, decorated with hand-made decorations. An interesting novelty will certainly be the Venetian carousel, dedicated to this year's edition of the Christmas Market. It was created in an Italian manufactory and is a faithful representation of Venetian carousels. The organizers made sure that the fair did not run out of snow, and the children had an abundance of hot chocolate, gingerbread and of course they met... St. Nicholas.
Gdańsk also makes sure that visitors do not leave the fair with empty bellies. "Radosny Zakątek" is a food zone where the aroma of spices is mixed with the scent of mulled wine. It is the perfect place to feast with family and friends.
We can also expect an Advent gate with a calendar and sweets. As in previous years, colorful parades will be held, and the whole gazebo will be waiting for those in love.
Photo: Christmas tree at the Long Market in Gdańsk
Winter and Christmas tunes
If you can come to the Tri-City before Christmas, I strongly encourage you to do so. Three amazing events worth attending can help you get into the winter mood. I am looking forward to two of them.
Winter Songs of Frank Sintra. The concerts will take place on December 19, 2021 at 17:00 and 20:00 at the Polish Baltic Philharmonic in Ołowianka.
The vocalist, Mrs. Natalia Świerczyńska, and her band, in swing arrangements of American winter songs and Sinatra's greatest hits, will take the listeners to the snow-covered streets of New York in the 1940s. The event receives very positive reviews and is certainly a great introduction to this December time.
Silent Night - world songs for Christmas. The concert will take place on December 20, 2021 at 18:00 at the Polish Baltic Philharmonic in Ołowianka.
The concert will consist of two parts. In the first one we will hear the most beautiful Polish Christmas carols, including Silent Night and When Christ is Born. In the second one we will listen to the most beautiful world songs, including: American Jingle bells, French Noel, Italian Tu scendi dalle. All related to Christmas.
The Nutcracker. The performance will take place on December 21, 2021 at 18:00 at the Baltic Opera.
The fairy tale, set during the Christmas holidays, is a beautiful story for the whole family that will warm the hearts of both older and younger viewers. The Gdańsk staging was prepared by world-class producers: the renowned choreographer Francois Mauduit and the talented set designer Justin Arienti.
Christmas cribs, Midnight Mass and a concert of Christmas carols
For those of us for whom Christmas is primarily a special time for religious reasons, I encourage you to visit Tricity churches in order to participate in the Midnight Mass, find nativity scenes and listen to a concert of Christmas carols.
Christmas cribs
The tradition of creating nativity scenes goes back to the first centuries of Christianity. For hundreds of years, the Holy Family has been presented in a stable or a grotto among shepherds and animals. The form of presentation is very diverse. However, animated and living nativity scenes, as well as those designed in an unusual way, are especially appreciated.
In the churches in Gdańsk and Gdynia, the following are certainly noteworthy:
A movable crib in the Franciscan church in Gdynia - renovated last year with preserved historical elements, incl. windmill. The authors, in addition to the classic characters, enriched the nativity scene with symbols of Gdynia, incl. Sea Towers, a cross from Kamienna Góra and the characters of Kashubia and Kashubia, giving it uniqueness.
The movable crib in the church of St. Trinity in Gdańsk - a colorful, visually attractive structure, in which we can see refined figures of people, incl. Three Kings, and the swaying silhouettes of angels under the sky.
Crib made of sand - the work is created each year in front of the Oliwa Town Hall of Culture. They are created by local artists using several dozen tons of sand. Due to the materials used, it may look different each year, which makes it unique.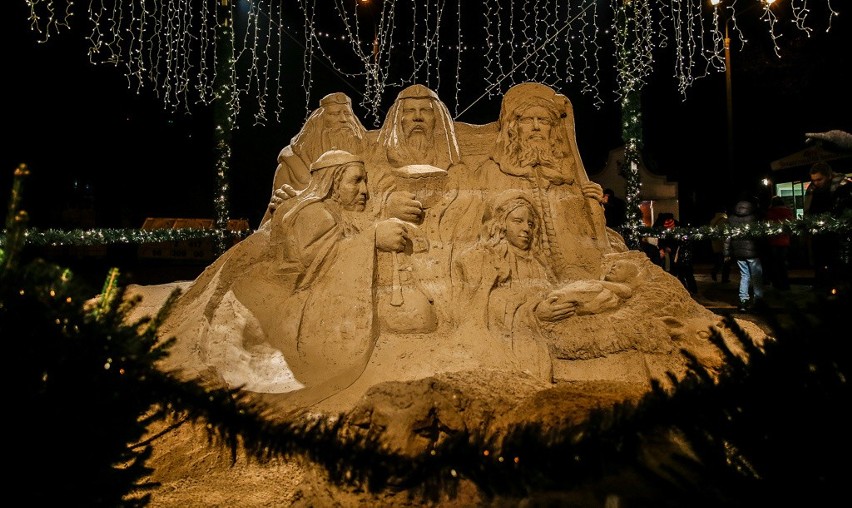 Photo: Christmas crib made of sand, Gdańsk Oliwa
Midnight Mass
For many Catholics, the full, spiritual experience of Christmas is associated with participation in the midnight mass on the Christmas Eve, i.e. Midnight Mass. If we are looking for a church where we want to experience this extraordinary time, thinking about not only spiritual values, I would suggest:
St. Mary's Church, Gdańsk – the church which is one of the most important monuments of Gdańsk, the largest brick temple in the world. I would choose her to feel part of a huge community of believers.
Oliwa Cathedral – known and willingly visited, famous for its unique organ music. The sound of the instruments would liven up this unique mass.
Sanctuary in Matemblewo – a church less known than previously mentioned, but especially interesting because of its location among the trees of the Tricity Landscape Park. This only night of the year, in my opinion, deserves such an amazing setting.
A concert of Christmas carols
During the Christmas season, carols ring out from all sides, and the opportunity to participate in a concert of these songs is extremely valuable. For lovers of caroling, there is a concert of Polish Christmas Carols, which will be played by outstanding opera and musical soloists with the accompaniment of violin and piano. The event will take place on December 28, 2021 at 8:00 p.m. in the St. Catherine.
And when we leave the christmas table….
Spending Christmas outside your home has many advantages. It favors a faster break from traditional dishes and prompts you to be more active. To make room for the next borscht and dumplings, I suggest ... take a walk and exercise. The following suggestions will be perfect and should satisfy both older and younger ones.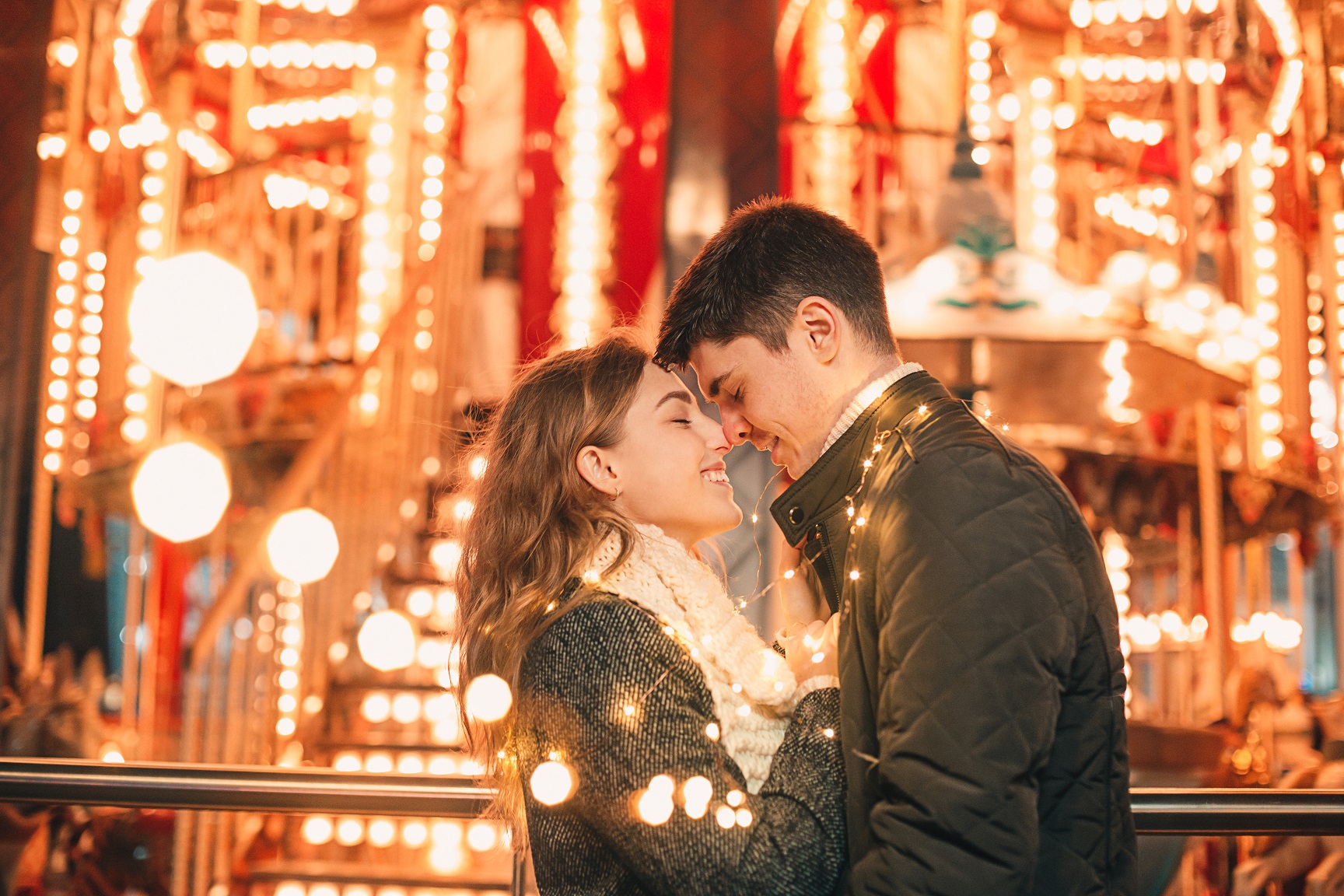 Photo: Christmas Walk, Venetian Carousel in Gdańsk
Christmas illuminations in Gdańsk
When it gets dark over the city, the magical mood of the walkers will be taken care of by illuminations. And this in as many as six locations. Millions of lights will shine at Targ Węglowy in the heart of the city. Those eager to relax will find it in the streets of the Oliwa Park, illuminated by beautiful installations, photographed in large numbers by residents and tourists. And if there are not enough walks, it is worth going to Kobzdeja Square, Zielony Most, Oruński Park and Reagan Park. There will certainly be a place for an additional portion of poppy seed cake.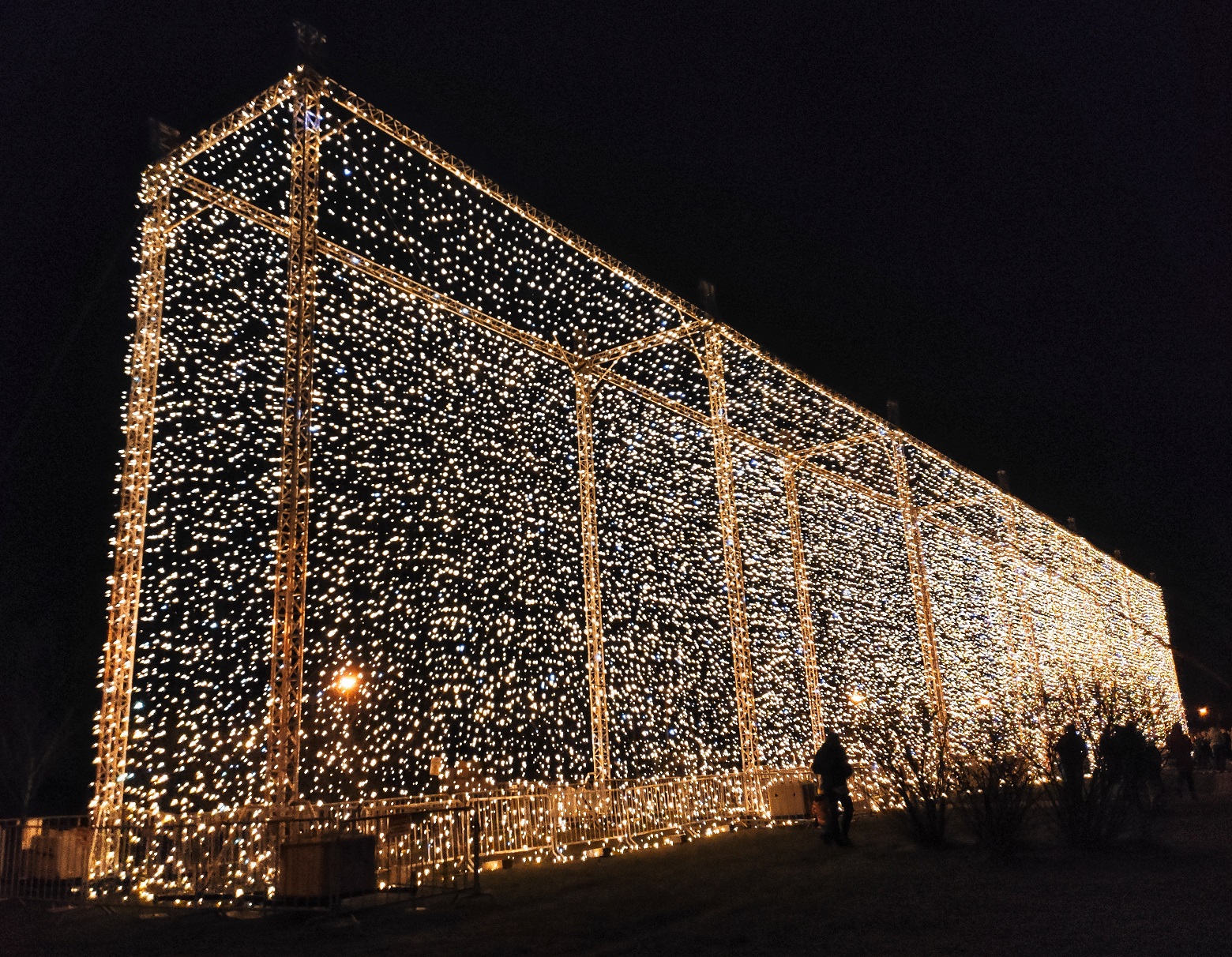 Photo: Light illuminations in Gdańsk
A family visit to... the Gdańsk zoo
The idea may seem unusual, but the Gdańsk Zoological Garden is open every day (also on holidays), so visitors have the opportunity to observe animals in an unusual winter scenery. There are plenty of walking routes, as the zoo covers an area of 125 ha - this is as much as 175 full-size football pitches would take. We can meet many species of animals, including those considered endangered. It is worth checking if Santa's reindeer have not become entangled somewhere between meerkats, giraffes and penguins. I am sure that for many children, but also adults, such a trip will be a nice memory and a beautiful family time. And it's all about that.
I hope you will decide to take advantage of the winter break and visit the Tri-City before, during or after Christmas. Attractions - both spiritual and not only - will certainly not be missing. And if you are looking for other attractions for frosty days, I recommend last year's post.
Finally, I will use this year's fair's slogan: #BestChristmas with wishes, that each of Christmas will take what is best for him.
Check out the other blog posts: