- What do you like the sea for? - I heard. A stream of thoughts, memories, images flashed through my head.
- For everything - smiling heartily, I glanced at the horizon.
The answer, trivial as it may seem, is exactly what I feel. The sea made itself at home in my soul a long time ago. And, perhaps, it's not the most popular opinion - I love it after the summer season. The second half of August, September, October and November have their own, more strict, but also majestic laws.
It is then that the sea seems to me the most beautiful and has a special power of attraction. Storms appearing more and more often, dark blue clouds towering proudly over the turbulent surface, sunbeams piercing through them, wind tugging on the hair and sandy spaces, with few tourists looking for the same experiences and emotions.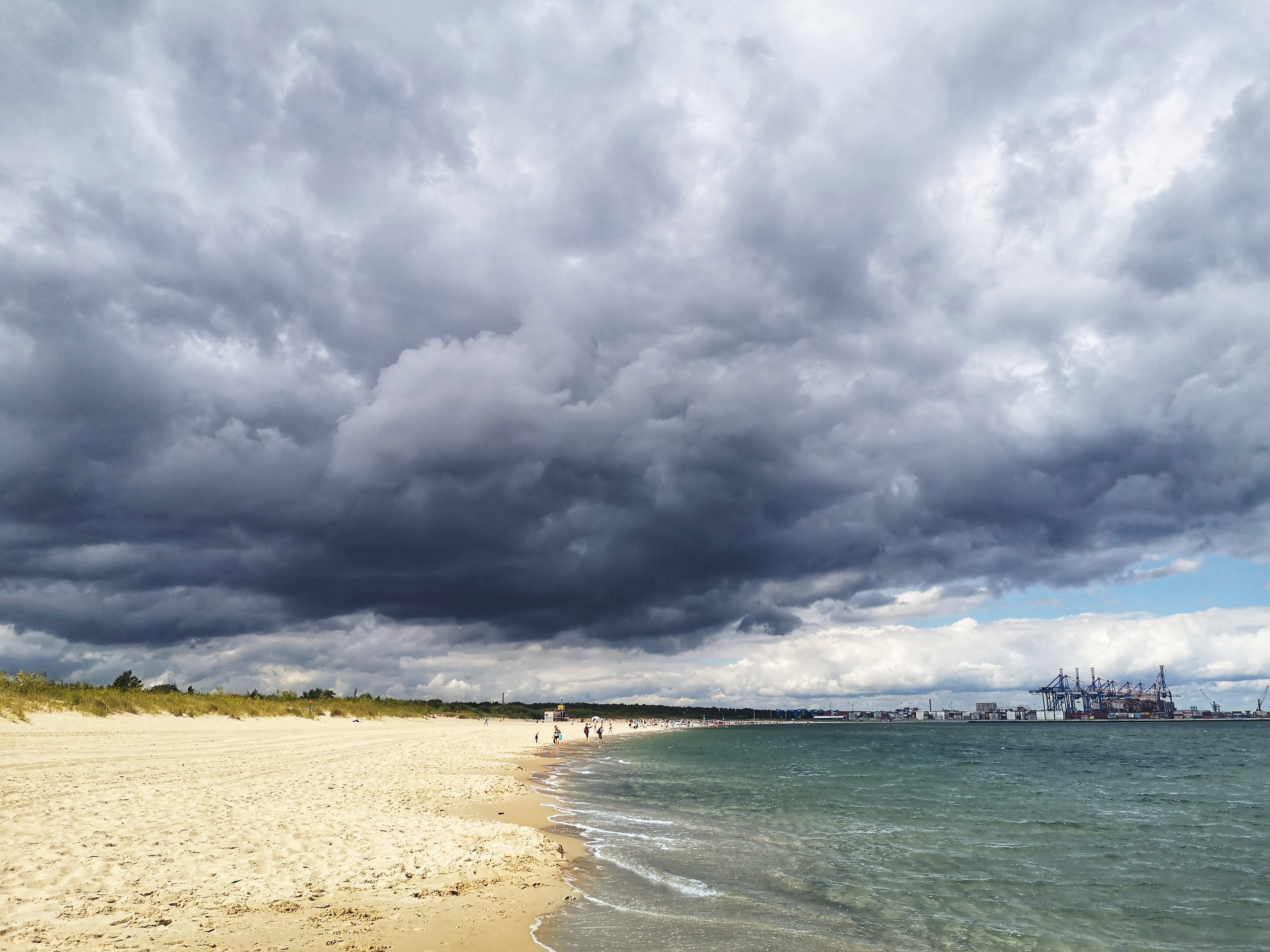 Photo: Stogi Beach in Gdańsk
Autumn in Gdańsk?
The first colder mornings and evenings sometimes awaken in us the need to wrap ourselves in a warm blanket, make tea and spend the afternoon in an armchair with a good book or newspaper. However, after a few days, we begin to think back to activities outside the four walls. Of course, we can use our strength for off-season work in the garden, we can go mushroom picking and prepare preserves for the winter, but I also encourage you to find a moment to breathe and allow yourself a short, off-season trip. So if you ask me: "Maybe autumn in Gdańsk?", I will answer with full conviction: "Definitely YES".
Nordic walking - great activity at any age
According to popular belief and, above all, the results of many studies, exercise is health. Therefore, it is worth moving as often as possible to your own body and age. I do not have to convince those who have already had contact with Nordic walking, i.e. walking with popular poles, to their pro-health properties. I encourage the rest of the group to familiarize themselves with this form of recreation, watch instructional videos, and preferably to seek advice from experts - instructors who will show how to use the full potential hidden in these inconspicuous poles in the safest way for us. Once we know how to use them, it's time to put them into practice. * Preferably on an autumn seaside walk.
Photo: Nordic Walking in Gdańsk
Beach direction - Stogi and Górki Zachodnie
I really like walking along the seashore. It allows me to take my mind off my daily duties and relax. And although I have been enjoying the long walks from Gdynia to Gdańsk for a long time, since I am the owner of the dog, I am choosing a different destination more and more often. The beaches in Stogi in Gdańsk and Górki Zachodnie, because we are talking about them here, are attractive for several reasons. First of all, they are much less crowded (and even completely empty after the season) than other Tri-City. It's easier to find space in them, find a place for yourself. Plus, they have some frameworks that I like. What I mean here is the conventional beginning - looking towards the bay, on the left there is a port - and the end - when looking to the right, we will see the mouth of the Wisła Śmiała. In this way, it is easy to find out exactly where we are and to assess the distances and time we will spend on a walk. The presence of the Northern Port also has purely visual advantages. I love watching the clouds billow over containers and port facilities. They often give it a more raw, industrial character, and in combination with the rising waves, I feel like a spectator of a spectacular performance in which the main roles are played by forces of nature, cooperating or opposing the works of human hands. I like this dynamic that stays in my memory for a long time.
Walking on the sand is also not the only alternative. Approximately parallel to the shoreline, there is a fragment of the picturesque, red hiking trail, called the Coastal Fortifications Trail, leading through a dune forest. The route offers contact with nature, so it is an equally pleasant option as a walk with poles, which in case of bad weather will protect you from wind and rain. History lovers will surely notice military objects: a forest battery bunker from 1911 and a dune battery command bunker of similar age.
Photo: Nordic Walking in Gdańsk
Nordic walking in the city?
It's possible in Gdańsk! If you are looking for a place to walk close to the city center, well-connected, and still somewhat wild, take your poles with you and start your day walking through the Gdańsk bastions. The red trail, known as the Motławski Trail, runs partially along the Motława River, and begins near the Biała Tower at Rzeznicka Street. Following it, we will pass numerous military facilities along the way. The first of them - the Bastion of St. Gertrude - it is the only bastion from the 17th century preserved in its original shape, belonging to the then fortifications of the Lower Town. Going further east, we will see the Lowland Gate - once the most impressive after the Upland Gate. Right behind it there is another bastion - Bastion Żubr. From its top you can admire the panorama of Gdańsk and the surrounding area. On the trail, we will also see the place that I described in the previous post - Kamienna Śluza, and then Bastion Wilk and Bastion Wyskok. From there, we can follow the trail south or go back to Granary Island on foot. Although the walking route is short, and therefore more accessible to all comers, it is full of really beautiful views. It is also saturated with history, harmonizing with the still somewhat wild face. Bastions are one of the most frequently visited walking places by me, also because the infrastructure, incl. benches allow for a longer time to be forgotten in these extraordinary circumstances.
Photo: View from the Żubr Bastion in Gdańsk
I hope that the coming autumn will bring us all many beautiful days and opportunities for active rest, which I strongly encourage you to do.
* Would you like to take a walk with other people? Get to know new places and inhale precious iodine? Or maybe you want to learn to move correctly while walking? We encourage you to come with your own Nordic walking poles or rent those available at Grano Hotels. Professional advice, instruction and joint walks with the instructor - all this is waiting for those of you who decide to take advantage of the offer "Fall in love in Gdańsk". Feel welcome to come.
Check out the other blog posts: