For several days I have been feeling more and more that autumn is approaching us with great strides. Increased traffic of cars on the streets, crowds of students on school playgrounds, and finally mushroom pickers encountered during a forest walk, proudly presenting the trophies in the baskets - eye-catching porcupines, goats and butterflies. And the first threads of Indian summer, floating freely in the golden rays of the sun, clearly signal that nature is slowly getting ready for sleep.
For most of us, this September time is a return to routine and a certain normality after many months of pandemic struggles. Time to rest at home after intensive days at school and at work.
On holiday after summer
But the holiday season is still in its best for many other people: those who cannot take advantage of, e.g. due to their profession, holidays in the middle of the season, those who do not like hot weather or do not tolerate hot weather for health reasons, and those with us who rest more fully without the omnipresent crowds, being able to enjoy the silence and exploring the area at your fingertips. Many of us also choose September and October for weekend trips to the cities, the so-called city ​​break, allowing you to change the environment without the need to use days off.
In my previous post, I encouraged you to visit Gdańsk and use the autumn days for walking with poles, i.e. Nordic walking. I suggested routes in beautiful natural circumstances with a hint of history in the background - on the beach and in the seaside forest and along the river located in the heart of the city. Today I would like to propose a different walk, because this time we will move... in time. At least we will try it under the watchful eye of our favorite Mrs. Katarzyna - a guide in Gdańsk (and not only).
Photo: Sunset in Gdańsk
Walk with a guide - is it worth it?
Being in a new place, we don't always know how to get around it, what is best to see, and in what order to visit, so as not to miss something. We can, of course, use book guides, read inspiration on thematic blogs, just go ahead to feel the city, but it is also worth taking part in organized trips, during which an expert on the subject will share the most fascinating stories with us. Earlier I recommended you a galar cruise, today I will propose a guided walk *.
This is the name of one of the most popular attractions used by Grano guests in the summer. Although I know the city quite well myself, I was pleased to join the afternoon group that went sightseeing under the wings of Mrs. Katarzyna Czaykowska. I have already watched Ms. Kasia during several ventures, so I knew that I would not be disappointed. And… I was right.
Photo: Tourist guide in Gdańsk, Ms Katarzyna Czaykowska
Time travel
The trip and the stories told by the guide absolutely charmed me. I looked at Gdańsk more closely. I stopped, leaned in, glanced up at the places I've been racing through. This short description contains only selected points that I saw again during the walk ** that I did in July with my two friends from Kraków (and a few families with children). For my friend it was another visit to the Tri-City, and for my friend it was the first meeting with the city. They both rated the walk and the guide very positively, so I encourage you to take part in the trip.
Brick Gdańsk
If you haven't noticed it, you will surely notice it after the walk. Kasia is a lover of bricks that she collects and which she knows a lot about. Currently, I can easily point to the brick at Powroźnicza Street, which a dog ran along before firing. I know where the bricks needed to build the "crown of the city of Gdańsk" - the largest brick church in the world, came from, and whether and what distinguishes them from those used to build the granaries on Granary Island. Those who like architectural curiosities will surely be interested in tenement houses, which are not… tenement houses, and there are quite a lot of them, as it turns out.
Photo: Gdańsk from a bird's eye view, a view of St. Mary's Basilica
And do you know ...
... which eminent scientist was born on Psia Street? And why can't we find it on the city map today? If not, look for hints at the intersection of Długi Targ and Mieszczańska Street or listen to the story of Mrs. Katarzyna. Standing at the junction of these streets, one more challenge awaits you, because it is the only place in Gdańsk from which you can see the three silhouettes of the god of the seas - Neptune. Finding them all may not be as easy as it may seem. Although his image is one of the most famous attractions - Neptune's Fountain next to the Artus Court - the remaining two figures remain to be found. After such a warm-up, when you go to the back of the Artus Court, it will be easier for you to find a nesting place for a unique bird, right next to the chimney of an antique tiled stove. Do you think about falcon, hawk, kestrel? I am sure that the curiosity from Mrs. Kasia will surprise you very much.
If you want to know this and much more, get a fresh look at the city, and laugh at the numerous jokes, a guided walk is a really great idea. I recommend him with all my heart!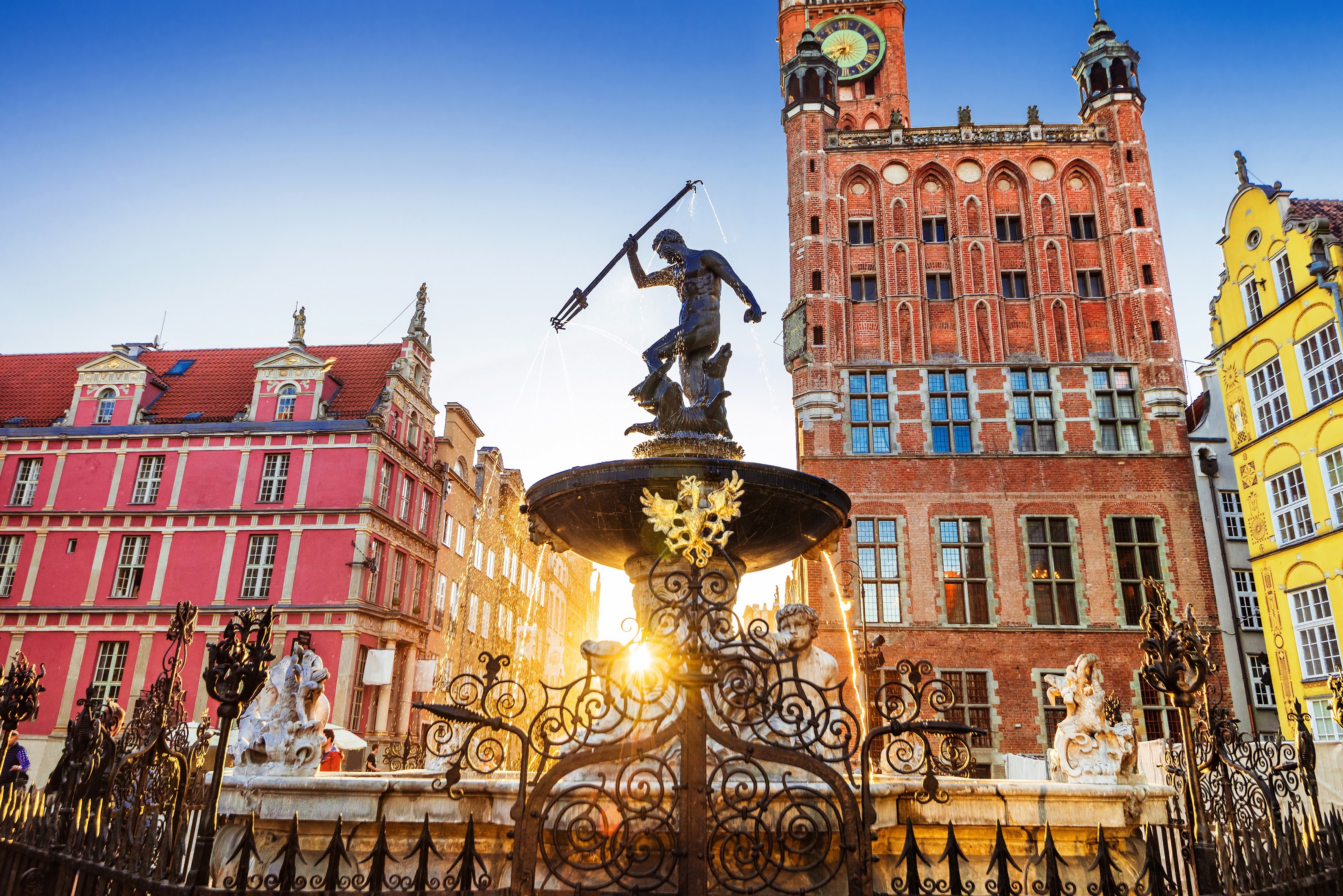 Photo: Neptune's Fountain in Gdańsk
And after the walk - a session
When you hear a screening, do you think about cinema? Not this time. Autumn evenings are associated with a blanket and warm tea. However, it is worth trying something completely different and taking part in a sauna session***. The use of the sauna is very popular in northern countries, e.g. in Scandinavia, where the great potential of saunas was discovered long ago. This form of biological regeneration has a great effect on the body, relaxing it physically, and thanks to the prevailing silence, it also leads to mental relaxation. Many people believe that using the sauna inhibits civilization diseases, such as cardiovascular diseases, but also strengthens the immune system. And we have to take special care of immunity in autumn. If you have not had the opportunity to take advantage of the benefits of a sauna so far, it is worth considering a session in which aromatic oils are used. Personally, after autumn and winter outdoor activities, I really want to go to the sauna to warm myself up and enjoy the warmth in reserve.
Photo: Sauna session in Gdańsk
I wish you a beautiful, golden autumn and lots of outdoor activities!
* A guided walk is an attraction organized for guests of Grano Hotels who have decided to take advantage of the "Fall in Gdańsk" offer.
** Ms. Kasia is a really great expert in the history of the city and I am sure that each trip with her can be completely different, because she has the knowledge that allows a lot of freedom in the story. Even more so, I think it is worth trying and getting carried away by the stories.
*** Sauna sessions are available every day in the evening according to the schedule of the "Fall in Gdańsk" offer.
Check out the other blog posts: