Fall in love ... in the Tri-City - from holidays and every day
February 14 is fast approaching. And although my observations show that there are at least two approaches to celebrating this day, I would like to propose a few ideas to make the festival of lovers unique this year. If you belong to the group of people for whom Valentine's Day is a long-awaited and special day, full of magic and surprises, I hope that you will find inspiration in the text to spend it in a pleasant way. If you are on the other side of the barricade and red hearts in February do not keep you awake at night, I also encourage you to read. After all, you can use the ideas later, because it's worth celebrating on any other day, preferably every day.
Photo: A romantic walk along the Motława River in Gdańsk
Ice skating with sea view
A dose of exercise in the fresh winter air is the perfect start to a special day. I would especially like to recommend you one of the unique attractions - ice skating overlooking the sea. Taking the first steps together, gliding to the rhythm of the music, and for the more experienced, spectacular figures. All this will be possible on the artificial ice rink located on the main square of the Kuracyjny Square at the pier in Sopot. The facility is open seven days a week, from 10:00 to 21:30 (depending on weather conditions, as it is not covered). Tafla has an area of over 600 m2 and can accommodate up to 100 people, eager for sports or romantic moments for two. After all, love comedies have made us used to the fact that a joint ride with someone we love can be a beautiful experience.
Photo: Ice skating in Gdańsk
Walk to the pier and along the seaside park
If you want to spend more time together, I encourage you to go for a short walk after skating. The obligatory point is the Sopot pier, the longest such facility on the Baltic Sea, cutting into the Gulf of Gdańsk for nearly half a kilometer. The pier is eagerly visited by tourists in summer, but it has a completely different face in the winter aura. It is after walking hundreds or even thousands of steps that you will be able to admire the view, among others to the port in Gdańsk, Kępa Redłowska and the cliff in Orłowo, and you will also see a historic facility associated with Sopot for nearly a hundred years - the Grand Hotel. In addition to the undoubted recreational values, at the end of the pier, there is also a yacht marina with numerous interesting vessels.
If you already take a romantic photo against the backdrop of Sopot or the Gdynia cliff, I recommend a stroll through the well-kept and well-kept North Park towards Gdynia. This area is very often visited by residents and tourists, including avid sportsmen, due to the well-prepared, collision-free cycling, cross-country and roller-skating paths. Despite the winter, you will surely meet enthusiasts of physical activity in the fresh air there.
Photo: Romantic moments on the beach in Gdańsk
Sauna with a sea view
I have a real treat for all those who have managed to get cold. A very interesting warm-up proposal can be found on the beach in Sopot. We are talking about the only saunas located on the Baltic sand. In this unique project you will experience rest, relaxation, you will experience something unique. What's more, you can take part in an aromatic session or ... rent a sauna with a sea view just for you. I think that such an event can be safely classified as unforgettable and building unique memories for a long time.
Photo: Romantic moments on the beach in Gdańsk
Valentine's package
If you want attractions to accompany you also after returning to the hotel, take a look at the Valentine's Day offer prepared for this occasion. The quintessence of shared moments can be a romantic evening with a bottle of red wine waiting in the room or a shared massage. Almost half an hour in two during the aromatic treatment for the head and neck will perfectly relax and tune you before the evening. Because there is at least one more point that is worth experiencing together.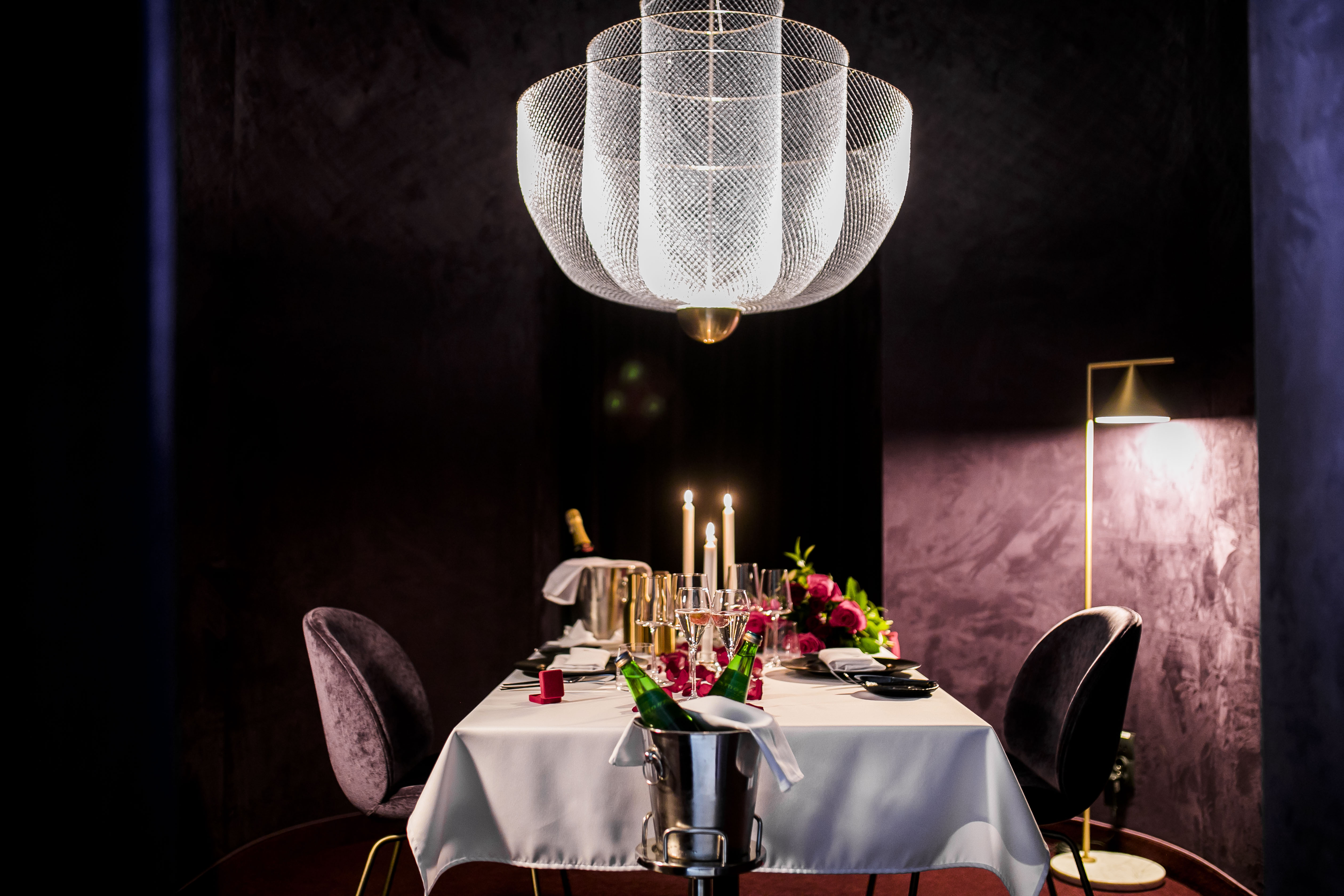 Photo: A unique place in Gdańsk - Szeptuch in the Młyn Restaurant
Romantic dinner
The culmination of an active day could be a romantic candlelight tasting. Although a dinner for two on Valentine's Day may seem obvious, it is worth taking a different angle and enjoying the taste really ... just for two. And where to find a restaurant that offers such a solution?
With full conviction, I recommend you the Młyn Restaurant at the Grano Hotel, where Szeptuch is located, which is an extremely atmospheric, intimate, tastefully finished place that allows you to feel really special. The symbolic name refers to the Grot Whispers located in the Gdańsk Oliwa Park - two acoustic shells placed opposite each other. In the announced, elegant space of Whisper, in the candlelight, you will be able to focus only on yourself, although I hope that this intimate atmosphere will be complemented by selected drinks and dishes prepared by the chef pampering the taste buds.
Photo: Engagement in Szeptuch - Młyn Restaurant in Gdańsk
And if fancy dinners are not for you, try a winter picnic on the beach. You can find some inspiration in the previous post.
The most important thing is that you spend this day exactly as you like, in the company of the person you love. And I wish you this warmly... not only on holiday <3
Let's love and fall in love with the Tri-City.
Check out the other blog posts: