Hu hu ha! Hu hu ha! Our winter…. pretty good!
Children like winter. For many adults, this statement may seem surprising, because they often associate them mainly with clearing snow from cars or a backyard pavement, but for the youngest the vision of making a snowman, making an eagle or an angel in the snow, rolling down a hill in white powder, and above all a battle snowballs with parents and friends are still very much anticipated. It is not without reason that the Disney's "Frozen" has enjoyed unwavering popularity for many years among the younger and slightly older ones, and has just got its second part. I strongly encourage, despite the January season, to follow the example of Elsa, Anna, Olaf the snowman and Sven's reindeer and try to find the winter beauty. Let's help children create beautiful memories that we surely have ourselves! So I invite you to the Tri-City to check what winter has hidden for us in the forest, on the hill and… in a hiding place.
Photo: Winter in Gdańsk, making a snowman
Winter outdoor activities
For me, sledging is synonymous with winter in my childhood. I spent a large part of the holidays racing with my friends who would go down faster or more effectively. Breaks for hot tea and changing clothes to dry seemed to be a waste of time. Any wetsuit inconvenience was nothing compared to winter madness. I also remember long walks with my parents, when they dragged sleds along park alleys or a heavily frozen lake. At that time, it seemed to me that you can do this all day. Moving to Gdańsk made me realize that here, as soon as there is snow, the possibilities of winter activities are quite wide. Well, if it goes downhill, it is certainly in the Tri-City, because there are many such convenient hills here. Similarly, there are forest paths and a long, wide beach where you can slide a sleigh over long distances.
So prepare sledges and apples and go! Or maybe this year at home, organize a competition for the most interesting vehicle that you can safely drive down? Maybe it will be as exciting as the Red Bull flight competition? Remember about safety, the zero waste trend and the fact that any elements that did not cope with the dizzying speed that you achieved in this snow chariot should be collected immediately after the ride so that they come back with us. So what? Ready?
Photo: Family with children on a sled in Gdańsk
Down the hill
And which hills in the Tri-City should you choose for downhill skiing? The choice is huge.
Górka at VII Dwór at the end of Michałowskiego Street in Gdańsk. Very popular with families with children. I walk alongside it regularly and I am glad to see how much fun it brings to children, but also to adults racing on sleds and other vehicles. The hill is long, wide and fast, and it has a safe braking zone. You can also get to it from Abrahama Street. These two places are separated by a forest path located on a hill. This is a great opportunity to warm up after getting out of the car, but also a chance for the last exit on the way to the parking lot. For those who will still have strength, I recommend that you drag the youngest sledged for a short walk and show them the large oaks growing in the Oak Avenue, which is a forest extension of Abraham Street. At its end, there is the Gruby Oak nature monument. In addition to winter madness, the trip will also gain an element of learning about nature.
Łysa Góra at the end of Herberta Street in Sopot. A cult place on the winter map of the Tri-City. The mountain rises to 110 m above sea level. and allows you to see the Bay of Gdańsk in the distance. On Łysa Góra there is a T-bar lift with a length of 286 meters, and the difference in height to the descent is almost 40 meters. The conditions may not be alpine, but for years they have attracted avid skiers and snowboarders who want to feel the thrill or take their first steps in winter sports. This year it is especially close to the hearts of families with children sledding. I am convinced that it is a great choice for an active day with the youngest and those slightly older. And if you don't have enough strength to go downhill, I recommend taking a walk, because in the vicinity of Łysa Góra there are numerous designated walking paths with animal names, for example, the Deer Trail and the Squirrel Trail.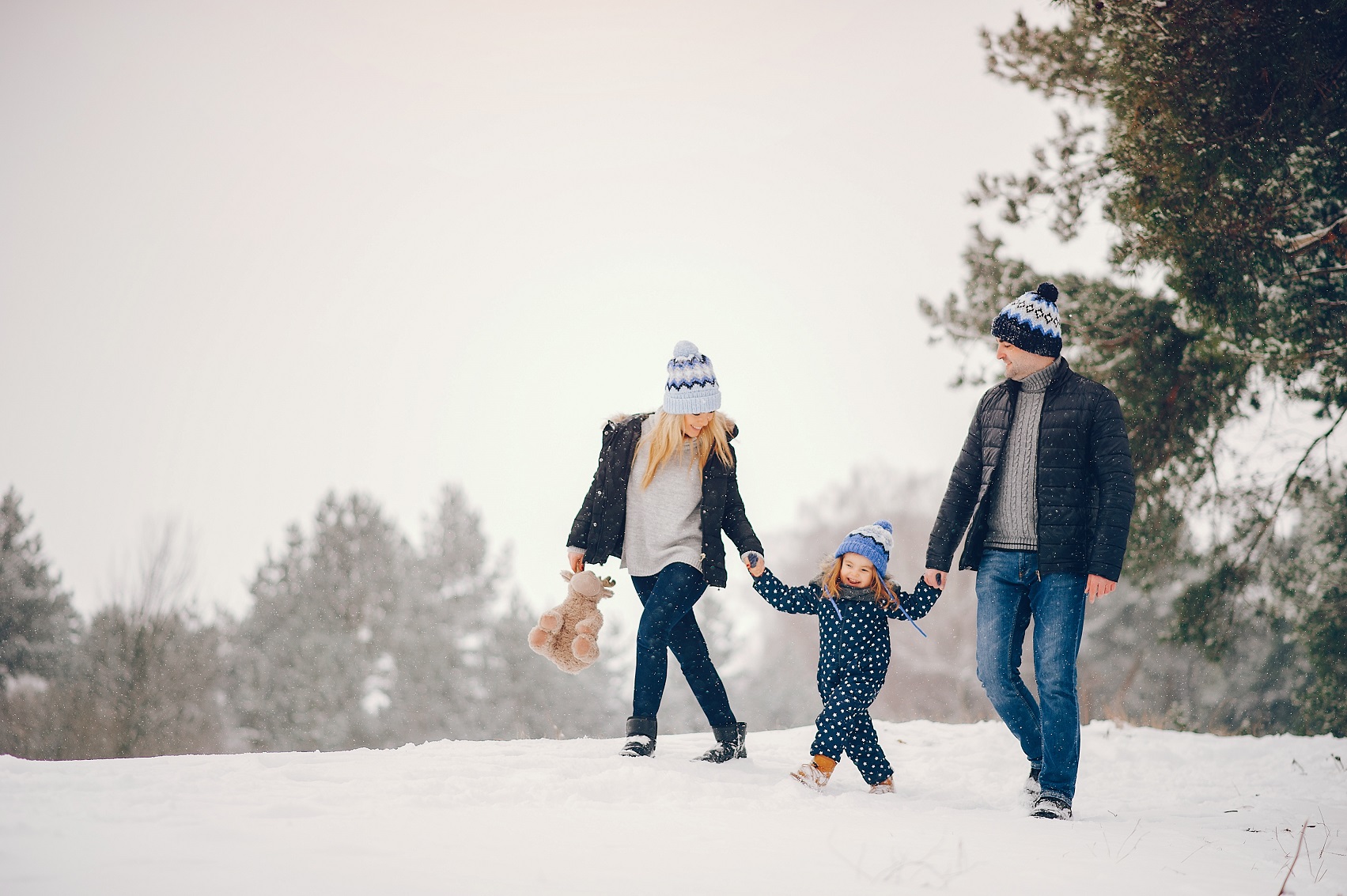 Photo: Family, winter trip in Gdańsk
Find me if you can!
Well, what can we do when we want to spend time in the fresh, frosty air after the madness in white powder or the lack of it? There are many possibilities, but today I will recommend one of the most interesting forms of walking, allowing you to explore the world from a different perspective, which is Geocaching.
Geocaching is an international field game for users of GPS receivers. Its aim is to search for hiding places, called geocaches from English, which were previously hidden by other participants of the game. People who hide hiding places usually choose interesting, inaccessible places, places of interesting value, incl. tourist and landscape. The caches contain visit logs so that new explorers can announce the victory of the search, and just signing in the diary for the youngest can be quite an experience. We take part in a mysterious story that could previously be imagined based on the adventures of the heroes of books and films.
It is very important to prepare well for such an expedition. First of all, we start by entering the website of one of the geocaching portals, of which there are quite a lot. The websites allow us to indicate the location that interests us. For example, on geocaching.pl in Gdańsk alone, there are over several hundred caches, which gives us a huge range of options, as we can filter the caches according to various factors, i.e. type, size, terrain difficulty and height of the hiding point. It is also a good practice for people who open the hiding places to provide tips and information on, for example, what attraction can be seen in the area. All this will help us plan our search, depending on the purpose, time and forces at our disposal.
So let's take a look at the selected portal, choose the Tri-City area that interests us, prepare warm and comfortable clothes, make tea for a thermos and be sure to take a small item for exchange, because after finding a hiding place, in addition to an entry in the journal, the reward is also a gift for exchange - we take the one left by the predecessor, and we leave the other, donated by us, which someone will soon find.
If we still have strength after the snow madness, then in the vicinity of the hill at VII Dwór in Gdańsk there are at least a dozen hiding places, and at the Łysa Góra mountain in Sopot, a few more.
Good luck in your search and…. a lot of snow!
Photo: Geocaching in Gdańsk
Places described in the post:
Check out the other posts: