Two weeks of summer vacation are behind us. Looking at the calendar, you can get the impression that time is rushing like crazy and is constantly accelerating. Therefore, in order not to miss the upcoming, usually slightly looser and holiday-friendly period, I encourage you to plan the upcoming days and weekends now. And where is the best place to spend them?
I think that my proposal today, full of colors, flavors and smells, will appeal to many readers. I invite you to Gdańsk for the St. Dominic's Fair!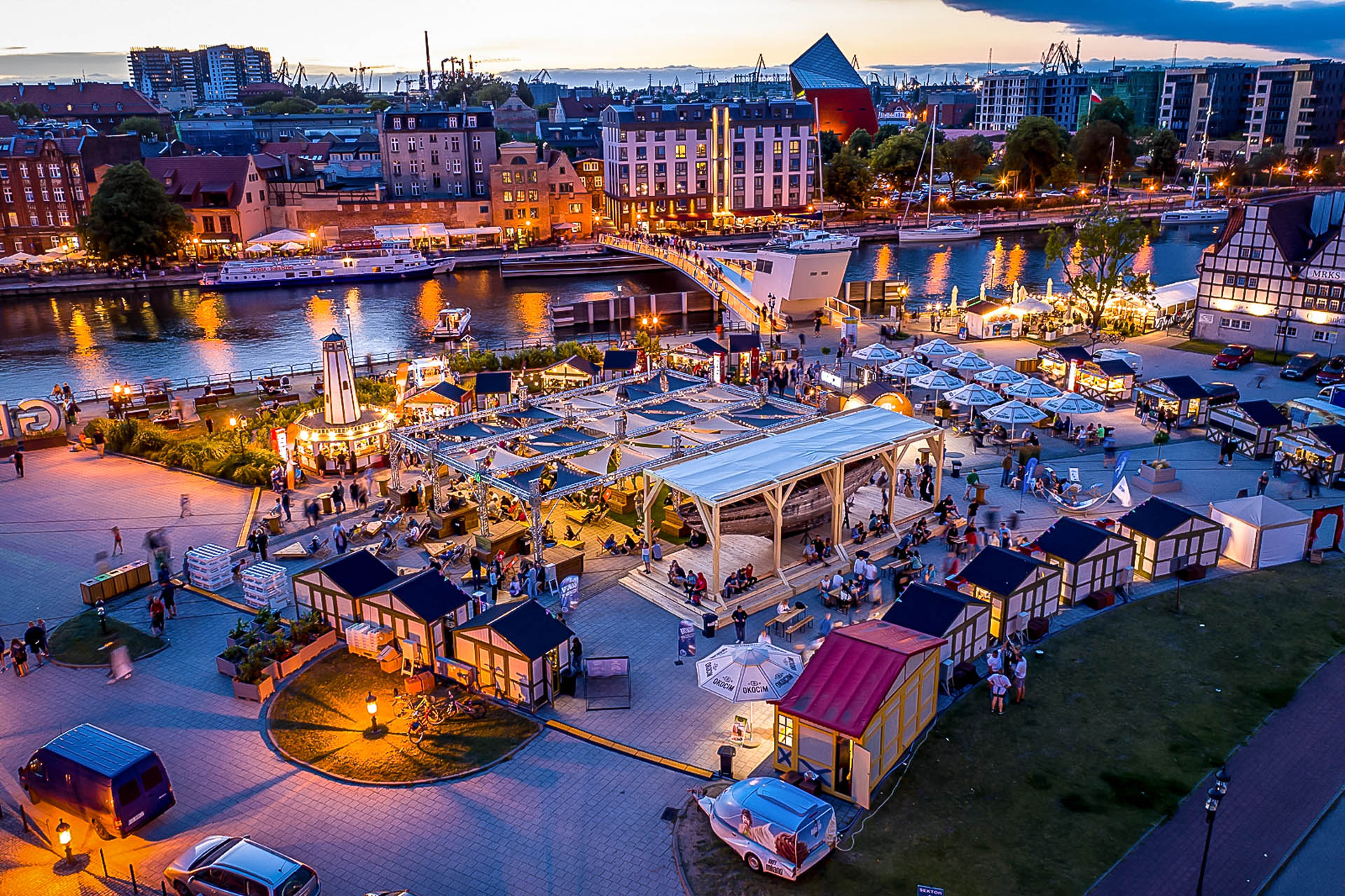 Photo: St. Dominic's Fair in Gdańsk from a bird's eye view
Which fair?!? A few words about history
Yes Yes. It's hard to believe! Before us is an event whose history began on August 4, 1260 and which continues (with a break from the outbreak of World War II to 1972) until today. The tradition dating back to the thirteenth century had, like many others at that time, a religious character. It was related to the papal bull, i.e. the highest-ranking church permission regarding the granting of indulgences, which was granted by Pope Alexander IV to the Dominican Order in Gdańsk.
From the 16th-century messages of the papal nuncio Giulio Ruggieri, we can learn that newcomers from more and less distant countries came to the Fair - mainly Germans, English, Spaniards, Portuguese, French and inhabitants of today's Netherlands. Let these words of the nuncio describe the scale of the event:
"(…) then 400 ships loaded with French and Spanish wine, silk, olive oil, lemons, preserves and other Spanish fruits, Portuguese roots, tin and English cloth call at the port. Circus performers, acrobats and acting troupes also came to the Fair from all over the place. Various wonders, exotic animals and even supposedly... mermaids were shown.
Thus, the fair gained, in addition to its religious character, associated with, among others: the possibility of buying indulgences, a commercial character, which in the Hanseatic city of Gdańsk had an established position and an age-old tradition. Visitors could buy many goods used every day - from food and pots, through clothes and decorations to more expensive products and spices, all of proven, high quality.

Photo: Stand at the St. Dominic's Fair in Gdańsk
A word about history
And this quality and uniqueness of the products, often hand-made by craftsmen, attracted crowds of viewers and buyers to Gdańsk. I think I can share a personal story with you, because I learned about the Dominican Fair in Gdańsk from my mother, as a child living in the vicinity of Toruń. As a young woman, my mother used to come every year by train (by direct train, which is impossible nowadays ;)) in August to see, among others, leather goods.
I heard exactly the same stories from the 80s and 90s from other family members and parents of friends and acquaintances, for whom the August visit to the seaside was related to this event. Therefore, the fair has an established position in our Polish history.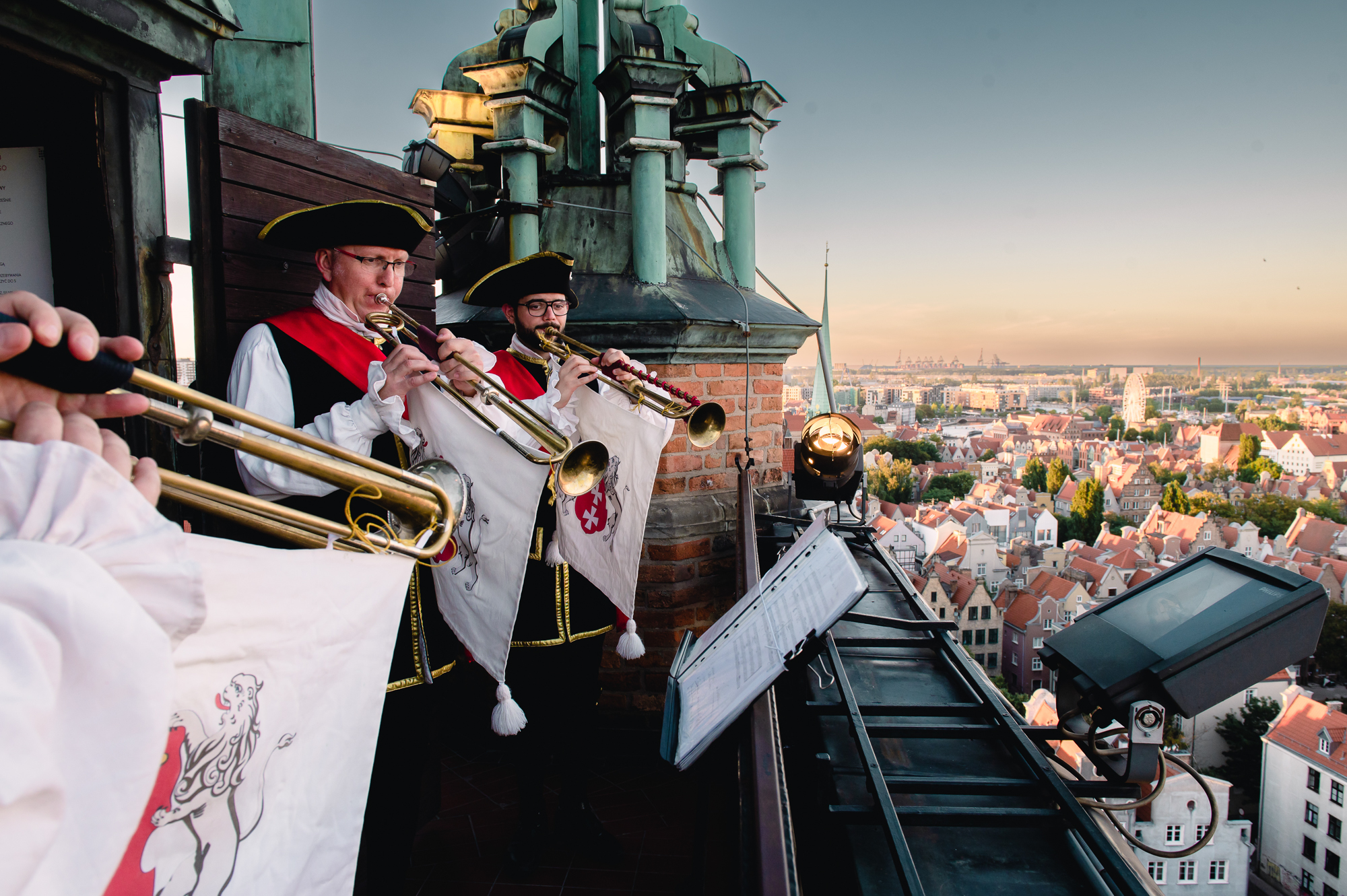 Photo: Bugle Call at the St. Dominic's Fair in Gdańsk
St. Dominic's Fair today
This year's St. Dominic's Fair in Gdańsk will start on Saturday, July 22 at 12:00 traditional handover of the keys to the city gates, in the heart of Długi Targ - next to the Artus Court and the Neptune Fountain. A colorful parade awaits visitors. We can expect a procession of figures, i.e. the Crimson Rooster (which has been a symbol of the fair since the 1970s), the patron of merchants - Golden Hermes, a group of jugglers, jugglers, reenactors and many others.
The closing ceremony is scheduled for Sunday, August 13, 2023 at 16:00, also at the front of the Artus Court. On that day, the last bugle call of the Fair will be played, and the key to the city will be returned to the hands of the Mayor of Gdańsk.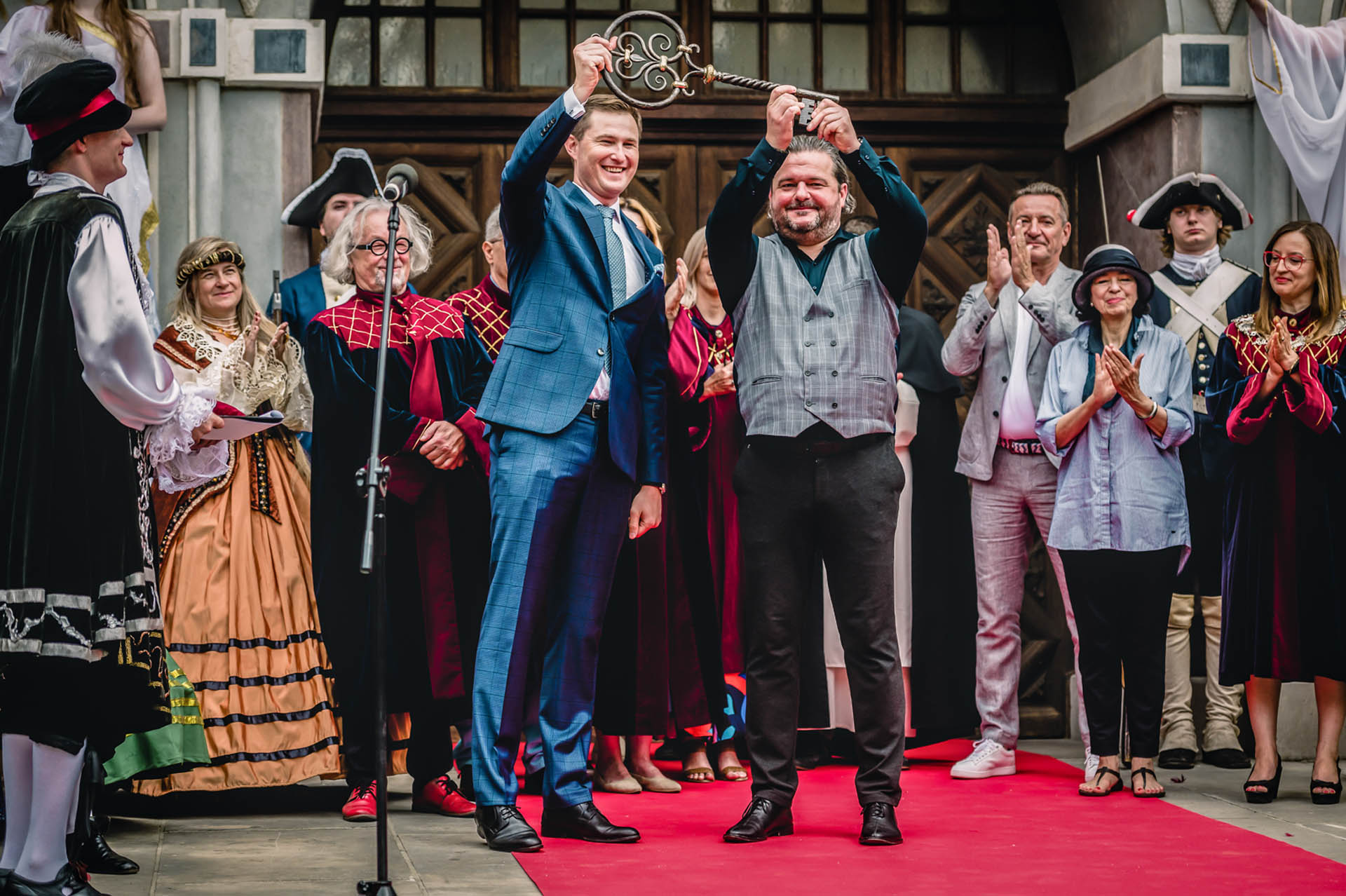 Photo: Handing over the keys to the city gates during the St. Dominic's Fair in Gdańsk
Buy here, bargain here!
The slogan of the Fair perfectly reflects the character of this largest commercial and cultural event in Europe! We can expect 760 stands, the vast majority of which are craft sellers and artists, and nearly 150 will be occupied by collectors and antique dealers, as well as representatives of world cuisine and regional products. So there will be plenty to choose from.
And although I may be a bit vulnerable to some - at the Fair I am looking only for stands with craft products that have a soul, history, are unique. If there are those in which serial production dominates, I try to avoid them, because I feel that it is worth finding time to meet real gems. Especially if the exhibitor is full of passion and can talk endlessly about his product. I wish you only such stands!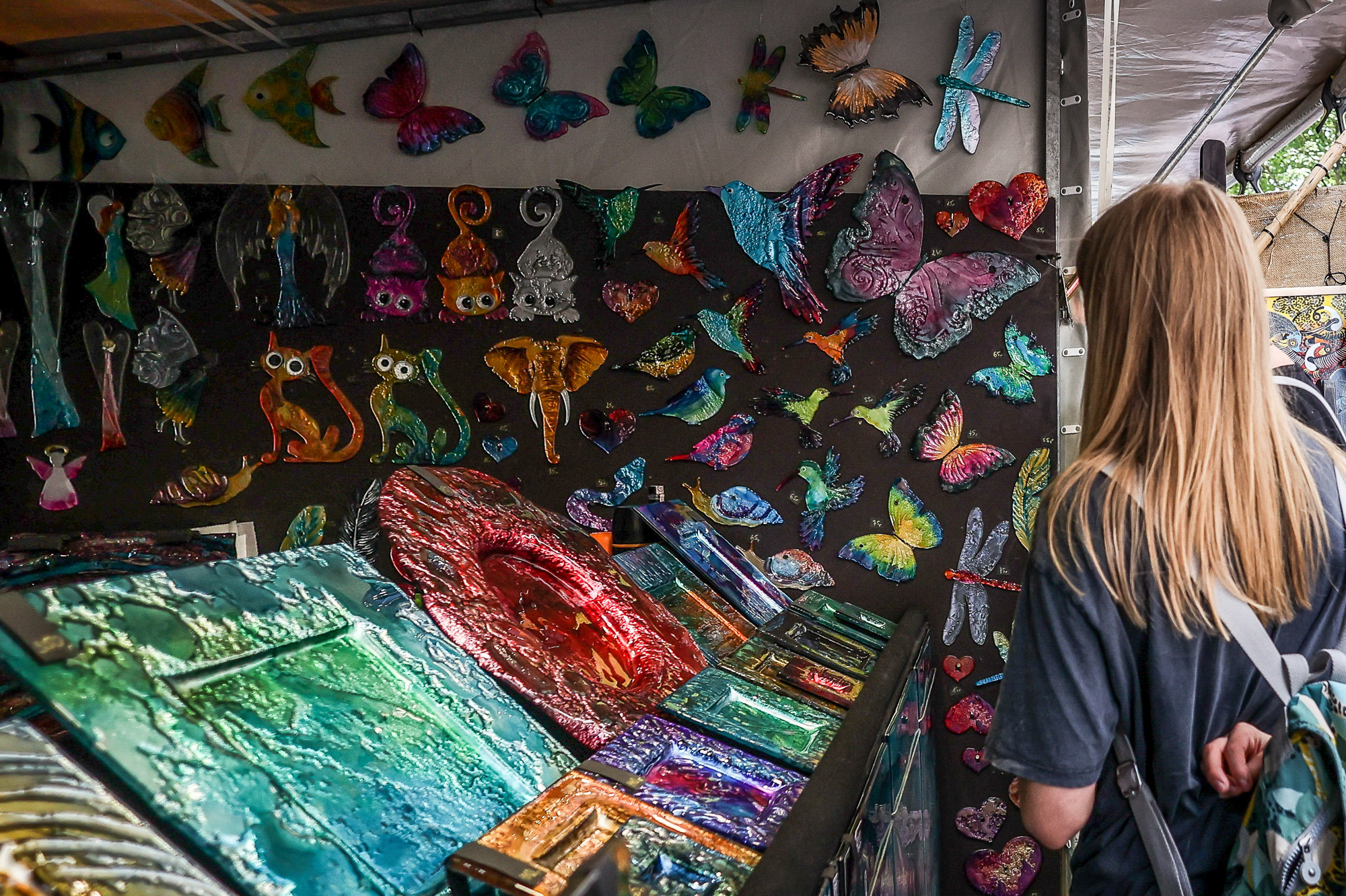 Photo: Stand at the St. Dominic's Fair in Gdańsk
The Fair lives not only by shopping
And for those of you who shop online, I also have good news - the Fair is not only "offline shopping", but also a lot of cultural events, the rich offer of which can be found on the event page.
On Ołowianka (an island located opposite the Gdańsk Crane) you will find cyclical film screenings, jazz concerts, DJ sets and "unobvious Tuesdays", i.e. concerts full of sounds of the city, nature and art. Weekends are themed festivals. Already today I envy those of you who will be able to participate in the gluten festival - XXVIII Bread Festival, celebrated on Sunday, July 23, 2023.
Remember also that the youngest will find lots of attractions at Targ Rybny - you will find there fun, sports, workshops and culture zones designed especially for children.
Photo: Attractions for children during the St. Dominic's Fair in Gdańsk
Odliczanie czas zacząć
Although I try to limit my consumption and the number of things I buy, I am happy to wait for events in which people dedicated to passion, craft, creating unique masterpieces are in the lead. I am glad that every year they can meet them in Gdańsk, which I hope we will be able to persuade you to do as well. I wish you a lot of sun this summer!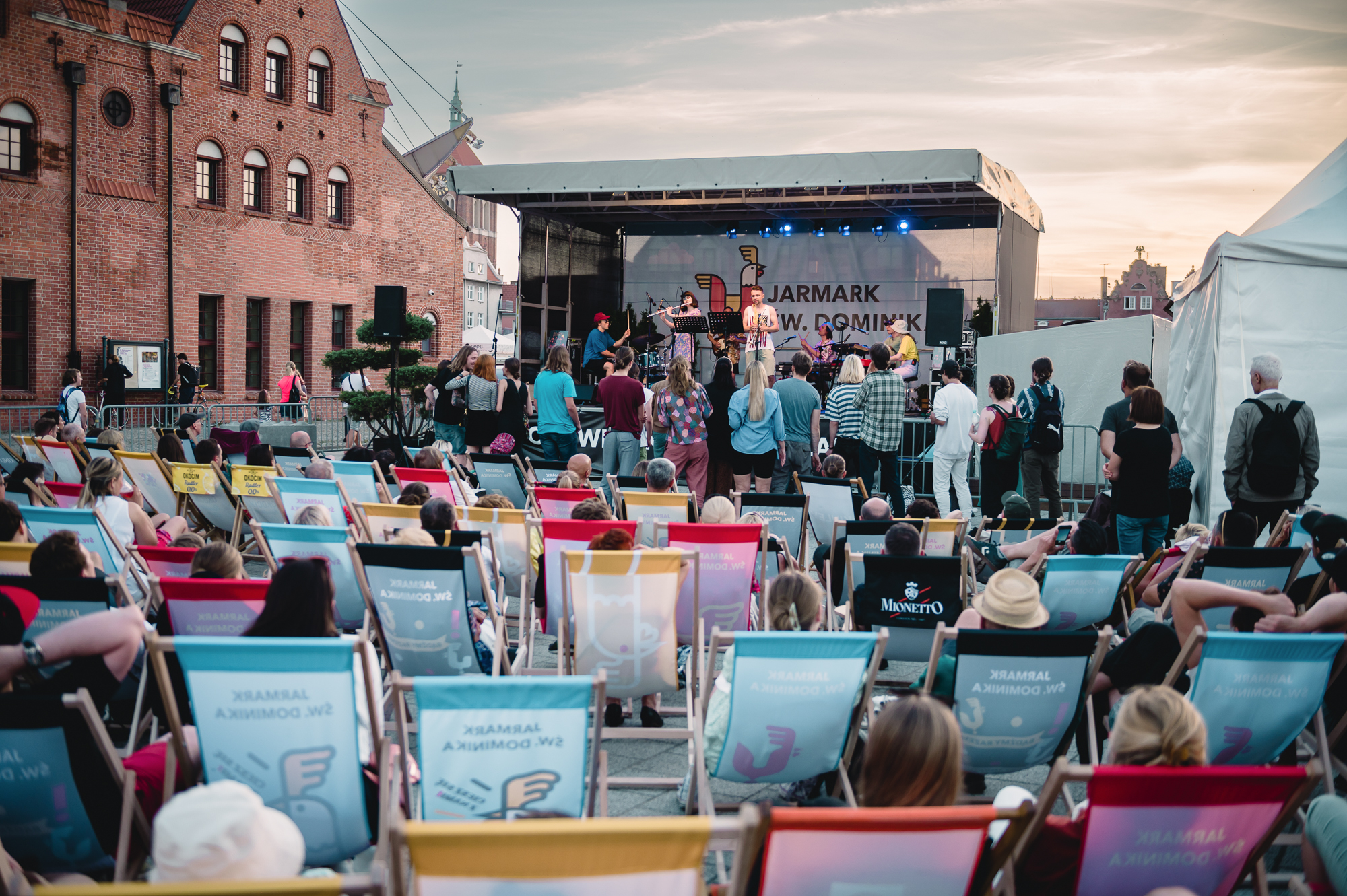 Photo: Music performance during the St. Dominic's Fair in Gdańsk
Check out the other blog posts:
Photos come from the website: