The big countdown to 2021 ... postponed!
2020 will go down in history for many reasons. The catchy slogans "2020 cannot be forgotten" or "2020 still in shape", did not leave the headlines, were the reason for writing articles, entries, and also a great opportunity to create countless memes. The Year 2020 itself has been changed by all cases, and its ending is still very exciting. For many of us, saying goodbye to him will not be particularly sad and difficult. Regardless of whether the last months have been gentle with us, have initiated positive changes, or we do not like them excessively, let's look with hope and make the best of this winter time.
Photo: Winter Gdańsk, Długi Targ
Look at the New Year from a different perspective
This time, traditional ways to spend New Year's Eve, for various reasons, may fail. It's hard to expect crowds of thousands at New Year's Eve concerts, hundreds of people at New Year's fancy or ordinary house parties, where no one counts new arrivals anymore. We will also not meet ordinary walkers. The last few months have allowed us to take a distance, look at the world from a different perspective, change our habits and sometimes our priorities. So let's try with optimism and fresh head to meet 2021. But do we necessarily have to do it on New Year's Eve? We, like the ladies in the film Lejdis, believe that the date is not the most important issue here. Because why not postpone the New Year's Eve celebration for a more convenient, different winter evening? After all, the contractual end and beginning also depend on us! And if you are looking for ideas to celebrate later, we are here to help.
A picnic in winter? Why not!
When I close my eyes and think about what the word picnic reminds me, I see green, usually uneven grass, individual trees, the sun high above the horizon, and a blue sky. I can see a checkered tablecloth, a wicker basket with fresh raspberries, crunchy homemade biscuits and refreshing lemonade. I can hear birds singing, buzzing bees going out in search of nectar, tender words and subtle gestures. I can see summer. But it's just a matter of habit. After all, nowhere has it been said that a picnic cannot be held in winter! It is worth breaking the usual patterns at least once and trying something else. And New Year's Eve moved in time and place still sounds exciting. Nothing will happen if we swap stunning high heels, fitted dresses, white shirts and bow ties this time for boots, wool sweaters and scarves. For now, we will not spend the night at an exquisite dinner, prepared by a talented chef, we will not clink glasses with the accompaniment of a violin. Instead, let's get carried away by other emotions. While in Gdańsk, let's go towards the sea. On a sandy beach, let's spread a thick blanket, take a thermos with warm tea or aromatic mulled wine out of the basket. The post-Christmas gingerbreads will gain expression when eaten amid the sound of the waves. Let's share this time with our loved ones. The twinkling lights of the ships standing in the roadstead, the light of the lanterns gliding on the horizon and finally the starry sky will replace the fireworks show at midnight, and the sand sprinkled with snow will become a dance floor. Finally, there will be room for fancy figures and a spontaneous show. May the wishes of happiness and joy grow stronger when they are expressed at the interface between land and sea. It doesn't matter when, the most important thing is that they should flow from the heart.
Photo: Beach in Gdańsk, fireworks
Winter dizziness
Creaking snow under the shoes, warming chocolate to go and thousands of lights illuminating the darkness. This is how you can imagine a romantic walk through the Old Town of Gdańsk in winter. This is also how you can imagine a perfect photographic outdoors. Traditionally, dozens of illuminations have been installed in the city. I will suggest that you can find them, among others on Długa Street, Długa Targ, Targ Drzewny, on the Green Bridge, on a shipyard crane at Stągiewna Street and finally on the Four Quarters Fountain. Especially those of us who are thirsty for new products will be satisfied, because the traditional Christmas Market at Targ Weglowy has given way this year to the canopy of light, i.e. illumination of the illuminated starry sky. It is hard to find a more romantic and touching end of the year. And those of us who want to feel like in a fairy tale have another option. Winter dizziness can be taken care of by… Gdańsk Carousel! It does not matter if you are a child or your childhood is long behind you, riding on traditional cups, horses, benches and chariots will be a real experience. In addition to the sculptural and painting craftsmanship, the creators made sure that the sculptures move to the rhythm of atmospheric music, which is why they gallop, sway and rotate. The carousel is new, but it is based on the Venetian ones from a hundred years ago and more. However, it is decorated with ornaments and paintings typically associated with Gdańsk, such as the Gdańsk lion, the Crane and the Neptune's Fountain. It can accommodate several dozen people on two floors, including people with disabilities. Maybe this is how the tradition of winter evenings on the carousel will begin? So what, Central Park next year? As you can see, not only champagne and bubbles can hit your head on a winter night!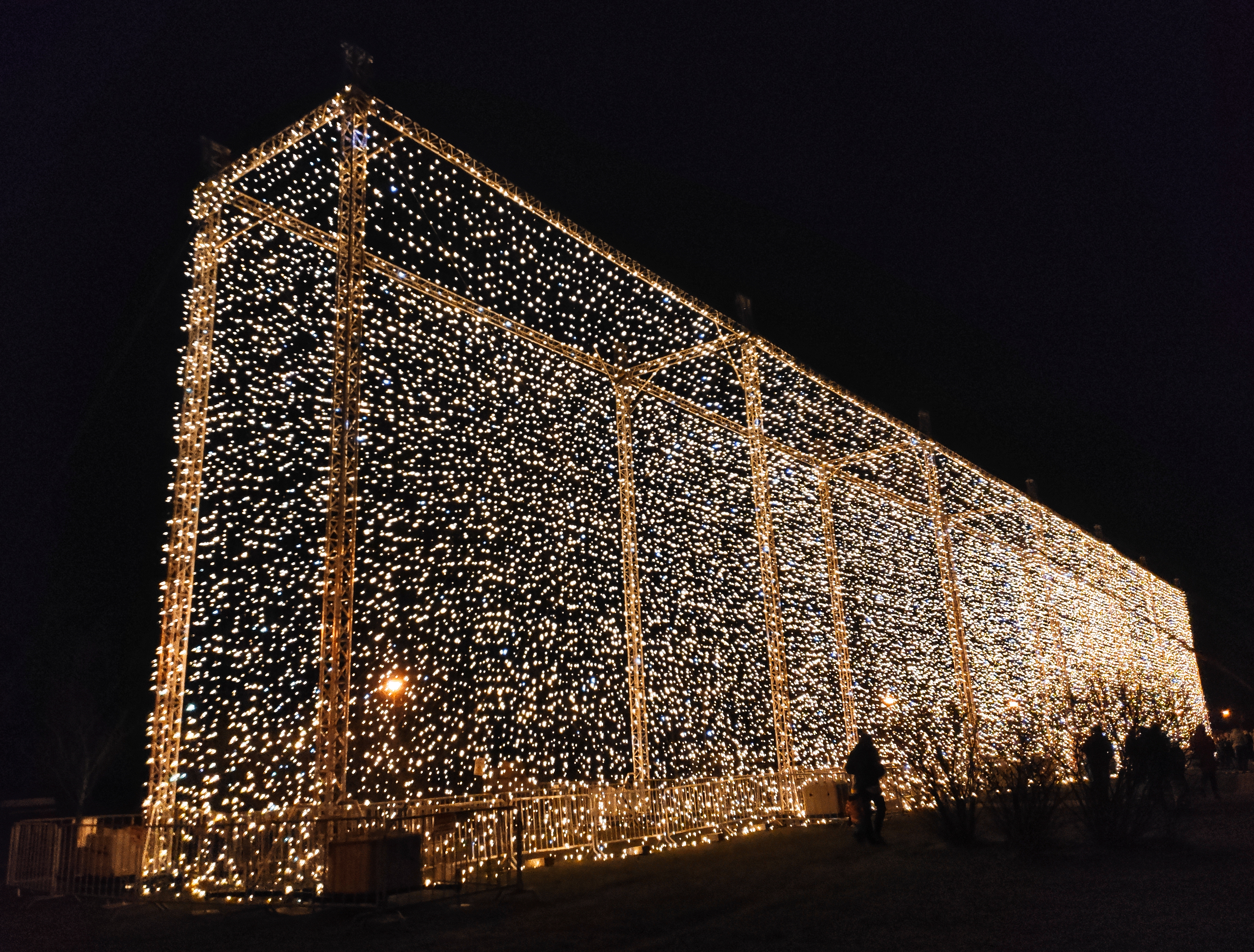 Photo: Winter Gdańsk, illuminations in Ronald Reagan Park
Cold, colder, hot!
As the old saying goes: the first January, the whole year. If so, start it with force. When you think Gdańsk, you probably associate it with the sea. When you think about the sea in winter, a light bulb with the word "winter swimming" lights up in your head. And that's a very good lead. Gdańsk has an unusual, over 40-year-long tradition of welcoming the New Year among the waves. Every year, in the early afternoon on the beach in Jelitkowo, a meeting of amateurs of winter swimming in the Baltic Sea was held. Every year, over a hundred daredevils plunge into the cold waters. For some of them it is already a habit, but for some it was the first time to face their own body and mind. You could join them and go up to the waist or neck, or from the shore to provide warming cheering for the daredevils. The schedule of the meeting included, of course, a warm-up, a joint photo, and the choice of the most original carnival costume. Such a prelude should harden us well and immunize us against the challenges that arise. What if this year it fails to arrive on January 1st? Does not matter! The cooled Baltic Sea will give us a lot of chances to start a new adventure!
I wish us all with all my heart that we can allow ourselves a moment of oblivion and a meeting in winter Gdańsk to feel its magic!
Photo: Winter Gdańsk, The Crane
Places described in the post:
Check out our other posts: