I have mentioned it many times, but I will repeat it today - spending time actively outdoors is of inestimable value. In the rush of everyday duties, we often forget about how important it is for our body and mind to indulge in adventures outside the walls of homes and gyms. Regardless of whether you are sports enthusiasts, nature lovers or just want to get away from the routine, moments, and preferably hours, in the bosom of nature can bring you many benefits.
Being outside also has a remarkable effect on our emotional and mental state. The surrounding nature is full of beauty and peace, needed to relax, catch your breath and recharge your batteries. That is why I encourage you to find your passion, discover new places and immerse yourself in the beauty of nature. Don't wait any longer! Step outside - for the first time in a long time or once again this week - breathe deeply and start the adventure that awaits you at your doorstep.
And where is best? I always recommend Sobieszewo Island, right next to Gdańsk.

Photo: Running on the beach in Sobieszewo
Ready, set, go! Actively on Sobieszewo Island
Why am I running? Running is not only a sport, but very often a lifestyle. It is the feeling of the wind on your face, the heart beating to the rhythm of our steps and the desire to overcome our own limitations. Slower or faster overcoming kilometers gives us a sense of freedom, health and fulfillment. So it's worth letting our feet lead us to the unknown, and running opens the door to unlimited possibilities in harmony with nature.
Sobieszewo Island, famous for its silence, beautiful landscapes and unique nature, allows us to use many wonderful cross-country trails that can provide unforgettable experiences. I chose for you the two most interesting in my opinion.
A route along the Baltic coast
I suspect this is the type that most runners immediately think of. And it's definitely not surprising. Fresh air, the sound of the waves and the smell of the sea breeze are additional stimuli for our running adventure. The amazing scenery - the view of the endless sea, wide, sandy beaches and the pine forest hidden behind the dunes - will certainly recharge our batteries even more. I also think that waking up early and running at sunrise will be a dose of inspiration, motivation and endorphins for a long time!
Photo: Running on the beach in Sobieszewo
Moving on the sand is definitely a challenge. For many of us, this can be more difficult than running on paved surfaces. Sandy terrain requires more effort, because the leg muscles have to work harder to maintain balance and overcome the resistance of the sand. On the other hand - our joints should thank us for the cushioning activity of sand. So it's worth finding out how we react to this stimulus ;)
And where to start? The amazing thing is that all you really need to do is get on the beach and head east towards the Seagull Łacha Reserve or west to Bird Paradise, and then repeat these stretches, depending on your physical abilities. And when we get tired - jump into the crisp, waving water ;)
In a wonderful thicket of forest paths
In the northern part of the island there are many charming forest paths, thanks to which we can prepare a lot of different variants of jogging - depending on our condition, disposition of the day or training needs. The most important thing is that they are all in direct contact with nature, because Sobieszewo Island really allows you to escape from the hustle and bustle of the city and blend into a peaceful and relaxing natural environment, full of sounds, smells and views that soothe the mind.
Photo: Running in the forest in Sobieszewo
Unlike running on the beach, this variant allows for better cooling and protection from the sun. Trees provide shade and lower the ambient temperature, which can be especially pleasant on hot days. Just remember to hydrate properly.
Just like running on the beach, running along forest paths requires more attention and focus than, for example, in the stadium. Bumps, roots, sand and mud make the training more demanding, but in return they offer the improvement of balance and coordination. I personally like running in the woods the most.
A bit of competition
But running is not just a solitary journey. The running community is full of enthusiasts who share a passion and support each other at every step, and also compete with each other. Also on Sobieszewo Island you will find the opportunity to take part in running competitions.
In October (and autumn in Sobieszewo has a unique atmosphere!) the Amber Running Festival will take place. Both experienced and beginner runners can participate in the event.
Routes planned for:
as well as runs for children and teenagers and a Nordic walking route (5 km). The program includes both running on the beach and in the forest, so you will have the opportunity to see all the charms I have described above J On Sobieszewo Island, there are also RunGDN competitions over a distance of 5 km.
A wave of adventure, i.e. water sports on Sobieszewo Island
For those of you for whom running is not a way to vacation ;) or those who need other activity to give your legs time to regenerate, I suggest you tire your hands. I recommend you a canoe trip on the Vistula Bold and Martwa Wisła. And those who prefer larger vessels will surely be satisfied with the information about the yacht marina.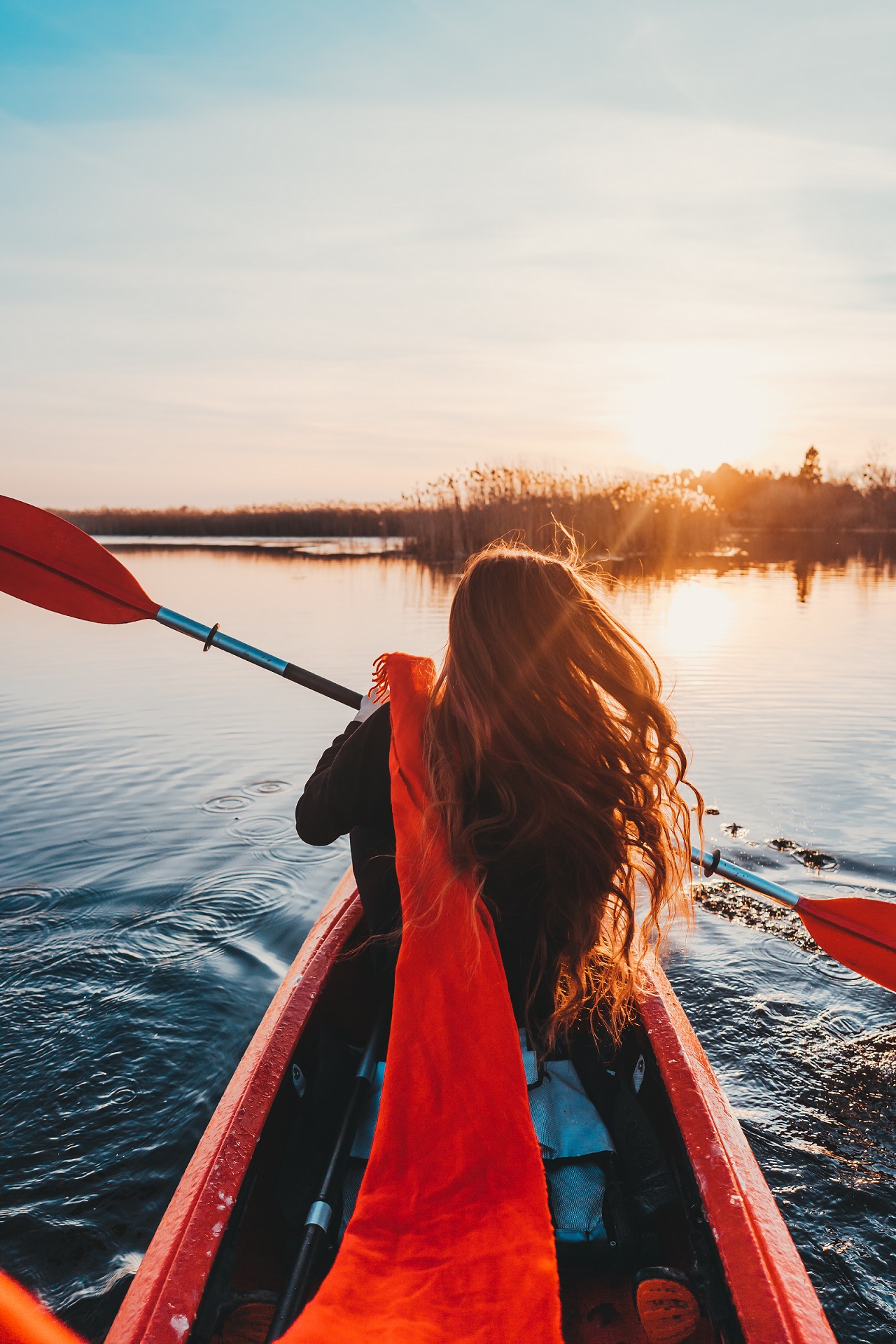 Photo: Canoeing in Sobieszewo
The joy of paddling
Kayaking has many advantages, ranging from the physical ones - strengthening the upper and lower body muscles, better efficiency thanks to aerobic training - to the emotional ones, related to stress reduction and relaxation in close contact with nature, especially seen from a different, aquatic perspective.
Photo: Canoeing in Sobieszewo
Therefore, when spending your holiday on Sobieszewo Island, it is worth trying rowing. In Sobieszewo, at Przegalińska Street, there is a canoe marina on the Młynówka Canal and a water equipment rental. You will find comfortable, extremely solidly made and tested on kayak trails Finder Active Duo kayaks.
The proposed routes should suit people with little water experience and families with children, because you can swim on the Martwa Wisła in any direction - the river flows lazily and the current is imperceptible.
When planning the route, you can use the suggestions below, included in the graphic, but also ask the organizers which variant is the best, taking into account canoeing skills, physical abilities and - what is important by the water - the weather. There is also an option to plan your own route starting in a different place than the most popular marina, which is worth agreeing with the employees of the rental company.
Ryc. 1: Suggested kayaking routes on Sobieszewo Island
Sailing wind in your hair
From 2021, owners of larger vessels who would like to dock at the seaside marina can do so on Sobieszewska Island. Marina Sobieszewo is located on the Martwa Wisła in the western part of the island at ul. Nadwiślańska 39.
The marina is equipped with piers enabling mooring for 73 vessels, a slipway, boatswain's office, hangars and all social and training facilities. Just try it ;)
Photo: Sailing in Sobieszewo
Active holidays in Sobieszewo
I hope that today's article has inspired you to look for your favorite physical activities or sports, even at an amateur level. Running and kayaking, which I introduced today, complement each other quite well and are a variety, and at the same time provide pleasure by exploring different environments - both on land and on water. I encourage you to wear running shoes or take oars in your hand on Sobieszewo Island.
Check out the other blog posts: