The day is fast approaching, which I know from experience to be one of the favorite reasons for women - both older and younger - to celebrate. And although some of us associate it with the period of the People's Republic of Poland in which it is rooted, it does not prevent us from disenchanting it from the then ubiquitous carnations and tights ;) We have an impact on whether we make it a unique and beautiful time spent in accordance with our needs and desires remembering the rights we have.
Women's Day, because that's what we're talking about, is today a day when many women want to find time for themselves, open up to new ones, look inside themselves, but also spend joyful moments in the company of other ladies. Fortunately, the possibilities are plenty. I will propose to the ladies (and I will be addressing my words to them, but the proposals have no gender, so I also encourage you to read and use the ideas) a few ways that seem to be a nice alternative for those who need a breath of body and spirit.
Regardless of whether you come to Gdańsk alone, with a friend, mother, sister, daughter or partner, it is worth finding time for your own pleasures (and not only on holidays). And since this year women's day is celebrated on Wednesday, allow yourself to extend the celebration for the weekend preceding and following the holiday. Let's not limit ourselves ;)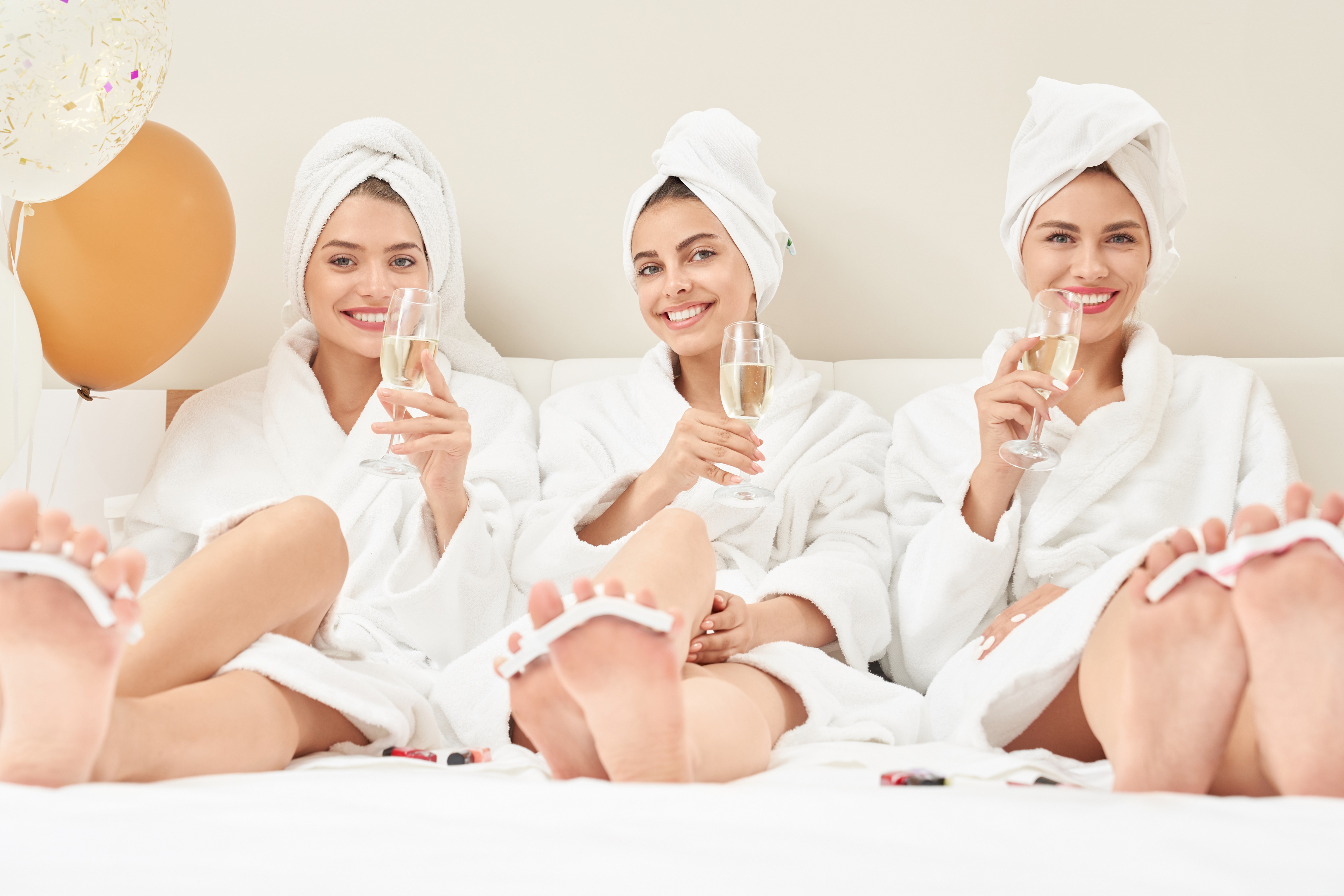 Photo: Women's Day at Grano Hotels in Gdańsk
Something for the spirit - a screening in an intimate cinema
I will honestly write that Kino Kameralne Cafe is my recent discovery - I regret that I passed by it for many years and at the same time I am glad that today I know where to turn to experience something special. And I encourage you, dear Ladies, to do the same with all my conviction.
It is an extremely interesting facility, located a few meters underground, in a basement with preserved original medieval brick ceilings and restored cinema seats, so wonderfully distant from the popcorn-smelling multiplexes (although they also have their own atmosphere). What's great, there is a cafe in the cinema, and you can take cakes, coffee or wine with you in front of the screen and enjoy them during the screening.
In the period close to Women's Day in the repertoire you will find some interesting film proposals, including those nominated for this year's Oscars. I've seen Inisherin Ghosts, Fabelmans, and Aftersun before. The first two made a huge impression on me and for various reasons it was hard for me to forget about them after the screening, so those of you who haven't had the opportunity yet, I heartily recommend them.
I'm currently waiting for Tar and Golden Globe Award-winning actress Cate Blanchett. Reading the review, I think that this could be an excellent proposition for March 8, showing the acclaimed composer Lydia, who becomes the first ever female conductor of Germany's largest orchestra.
I hope that the screening in the studio cinema will also become a beautiful adventure for you, to which you will want to come back. Remember that the cinema is small, so tickets sell out quickly ;)
Photo: Women's Day at the cinema in Gdańsk
Something for the spirit and the ear - two concerts at the Baltic Philharmonic in Ołowianka
Speaking of the orchestra... The Polish Baltic Philharmonic named after Fryderyk Chopin in Gdańsk's Ołowianka is the largest institution of musical life in the north of Poland. Symphony concerts, recitals and chamber evenings are held in the Philharmonic, performed by outstanding musicians from Poland and abroad. It is for this reason that it is appreciated by music lovers and people who want to commune with high art. On the occasion of women's day, we expect two interesting events.
"Music My Love... classically and humorously..." - a guest concert will take place on March 7, 2023 at 19:00. Viewers will have a chance to see ballet soloists in interesting choreographies of the Grand Theater in Łódź and hear the most beautiful and well-known arias and duets from operas, operettas and musicals performed by soloists of the Grand Theater - National Opera in Warsaw and the Grand Theater in Łódź. The artists will be accompanied by a chamber orchestra. Tickets are still available.
10 tenors - a concert performed by ten stage personalities, who are not limited by musical styles and genres, will take place on March 8, 2023 at 19:00. During the show, ten shades of tenor are waiting for the viewers, which will remind you of many well-known and widely liked songs. In addition to world-class such as: "We are the Champions" and "Bella ciao", there will also be Polish accents, among others: "Days we do not know yet" and "I will follow you as if to a ball". Tickets are still available, although availability is clearly declining.
Photo: Baltic Philharmonic in Gdańsk
And something for the body - saunas on the beach in Sopot
Although SPA will certainly be one of the first choices of many women, and you can learn about its advantages from the previous article, this time I would go in a slightly different, but equally pleasant direction. I would bet on sauna with a sea view! It is a truly unique proposition, which will remain an unforgettable memory for the body and spirit, especially if we extend the sauna experience to bathing in the Baltic Sea, which is just a few steps away.
Saunas in Sopot are very popular among tourists and residents of the Tri-City, which does not surprise me at all. In this unique facility you will experience relaxation, relaxation, you will have an amazing opportunity to warm up with a view of the sea. Although I don't know anything about dedicated sessions on the occasion of women's day, I recommend taking a look at the offer of aromatic sessions or renting saunas for exclusive use or for groups, especially if you visit the coast with more people.
However, if you get hungry during a sauna session, the solution is at your fingertips. As part of the M15 complex, there is also a restaurant with a pleasant interior, but also with tasty Polish cuisine, enriched with contemporary culinary trends. The chef uses regional products from proven, ecological suppliers. The menu includes, among others: fish in many versions, meat and vegan options.
After sauna, it is worth taking advantage of the charms of Sopot and going to the Sopot pier - the longest facility of this type on the Baltic Sea, cutting into the depths of the Gulf of Gdańsk for almost half a kilometer. And if you feel like more - walking along the shore, you will reach the Brzeźno district of Gdańsk. So you will have plenty of time to think, talk and enjoy the moment.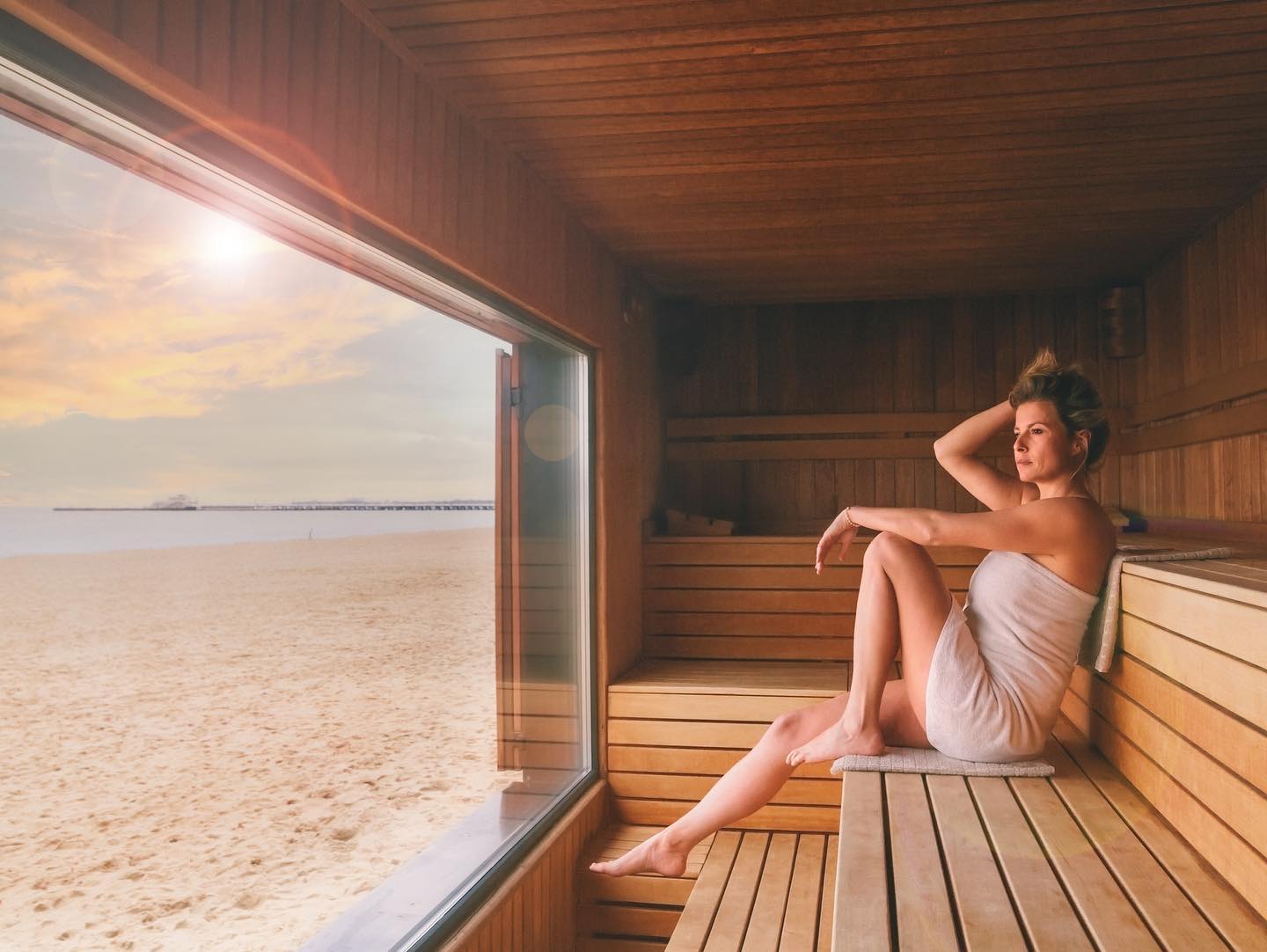 Photo: Relaxing in a sauna with a view of the beach in Sopot
Best wishes
I hope that one of the proposals will appeal to you and you will decide to spend women's day in Gdańsk or the Tri-City. By the way, I would like to wish all the ladies many reasons to smile every day.
Photo: Flowers and wishes for Women's Day 2023
Check out the other blog posts: