Family trips and vacations, both shorter and longer, are often planned down to the last detail. Parents want to know exactly what they will do, or at least what they can do. They carefully check the offer in terms of facilities for children, ask about what the hotel, guesthouse, agritourism or the closest neighborhood has to offer for the youngest. They want to be sure that in case of bad weather, the holiday offer will be prepared so richly that their children will not have time to get bored, and they will… have time to rest.
Children's stay in city hotels
When we think about relaxing with children in a hotel, we often think of a large facility, in an attractive place, for example on the coast, in the mountains, abroad, with a whole lot of attractions ... in case we do not want to leave its area for the entire stay. The vision is interesting, of course, but if you like activities outside the hotel, you want to get to know the area, you want to visit the place where you are going, I recommend taking a look at the offer of city hotels that have met parents and have planned many attractions for their children.
Depending on your preferences, values you believe in your family, your habits and real needs, elements of the family offer may be more or less important to you. I decided to choose the ones that parents and grandparents ask about the most, and those that we see are most crowded with children at Grano Hotels.
Photo: Children's playroom at the Hotel Number One in Gdańsk
Hotel from the children's perspective
Children usually see the world in different colors than their parents. Wet socks do not matter when jumping in puddles, and a woolen blanket is not only a warm bedspread, but the basis of a secret base. And that is why it is worth letting children get to know the hotel from the side that best ignites children's imaginations.
Water, water and more water!
- Mom, when are we going to the pool? We hear this question when families check in after their arrival. Most children like water and as soon as they can dive or splash in the shallows, they will jump into the pool with a smile. When choosing a hotel offer, it is worth paying attention to whether the facility has a swimming pool (under the watchful eye of a lifeguard), whether it has a separate section for children, and maybe even hours dedicated to children.
In order to meet the expectations, the hotels also prepare special swimming classes so that the children return home with new skills after the holidays or have the opportunity to try them right away in the sea and in the lake.
Photo: Swimming pool at the Hotel Number One in Gdańsk
Are we going to play?
Children, even tired of a trip, sightseeing and physical activities, charge their batteries very quickly, much faster than their parents;) When the adults are still gathering strength, the youngest move their legs to do something fun. In such situations, the animation offer is worth its weight in gold!
In a specially prepared room, children are provided with professional care of a person who knows how to take care of them in a creative and safe way, supporting interactions between peers, as well as giving vent to their energy while playing. During the animation, children can count on physical activities, art, music, reading fairy tales together or an evening cinema session with a cup of lemonade. Time spent with other children can pay off in long-term friendships. How many of us are still in touch or remember our friends we met during the holidays? I think quite a lot.
Photo: Children's playroom at the Hotel Number One in Gdańsk
Today I will bake a pizza and tomorrow I will make pancakes. All by myself!
One of the phrases I used most often during my childhood was "by myself". I wanted to choose, decide, do it myself. Observing the years of growing interest in culinary workshops for children, I know that the passage of time has not changed anything in this matter. Children also want to be independent and it is worth allowing them to be independent. Especially when it comes to preparing meals and children's favorite dishes by themselves under the supervision of professional chefs!
Children can surprise us with the toppings they choose for the pizza and with what they will decorate the pancakes with. It may turn out that our seemingly fussy toddler has a good appetite when he eats what he has planned. I recommend that you find out, especially that cooking together is great entertainment for the whole family and a great way to spend time with your loved ones.
Photo: Culinary workshops for children in Gdańsk
Family hotel from a parent's perspective
And what do parents often expect from joint vacations and trips? Children's smile, a sense of security and... a bit of peace.
What are we going to do today?
I asked my friends who are parents what was most important to them during their family stay at the hotel. The first answers were not a big surprise. Adults want to know what they can do with their children and where to go with them, both in a good weather and in bad weather. They want a competent reception, who will propose proven and interesting ideas so that the whole family can return to the hotel satisfied, without much fussing about "what are we going to do today?".
If you plan to stay in Gdańsk, I recommend the suggestions described in the previous articles: Hevelianum, i.e. workshops, laboratories and demonstrations, and A few ideas for an active weekend with children. You will find the new idea at the end of the article;)
I have to work. What now?
Our reality has changed. Remote work, which was once a distant perspective, is getting closer to many people. It happens that parents have to focus on their work during the holidays. In this situation, a kindergarten in a hotel seems to be an ideal proposition!
Yes, during the holiday season at Grano Hotel you will find a dedicated kindergarten, where professional animators can take care of your kids every day for 8 hours. All you have to do is leave your children under their care, sit comfortably in the hotel lobby, answer urgent e-mails, and the children will spend an intense time in the land of play - different every day. And in the evening, with family, you will look for holiday experiences.
Photo: "Kindergarten" for children at the Hotel Grano in Gdańsk
Will they like the food?
One of the questions many parents ask themselves most often. What will our kids eat on vacation? Will we find suggestions for children on the card? What if they don't like the meals? Luckily, the positive responses are multiplying in your head, or rather in the menu. Hotels are aware of the special taste of many children, which is why the buffet offers include numerous proposals dedicated to the youngest, so that everyone can find something they like.
It is also worth considering additional proposals, i.e. an Italian feast with excellent food in the Italian climate and feast with children together. The observations confirm - this proposal passes the family exam in terms of shared meals. I encourage those who are ready for a different test to enjoy a great barbecue together. Experience shows that a meal eaten outdoors, straight from the grill, is also desired by the youngest palates.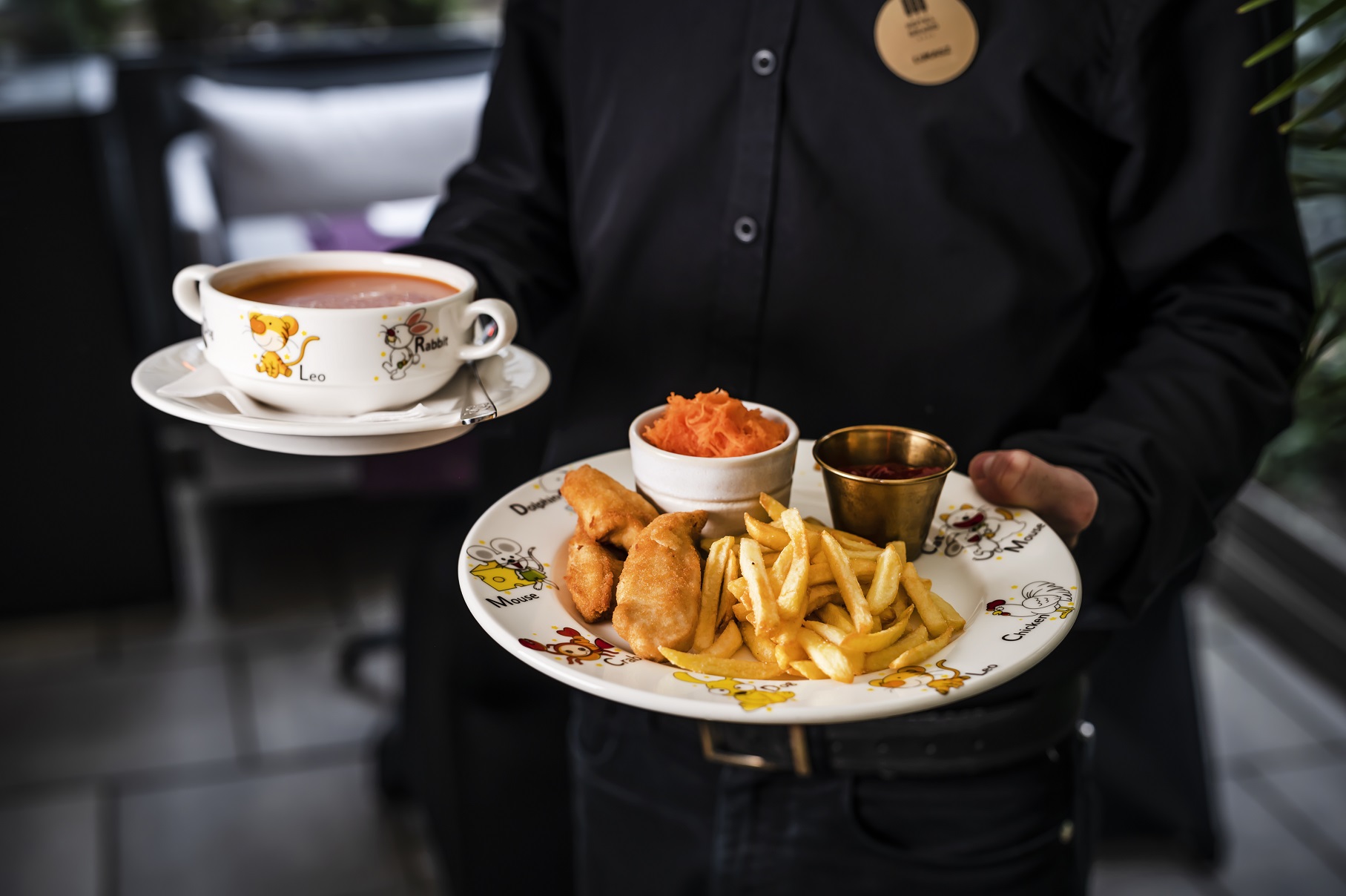 Photo: Children's menu, Młyn Restaurant in Gdańsk
What do they know about children?
While all children are different and require their own attention, overall experience gained over time helps to meet many expectations. Hotels learn from their youngest Guests constantly. And in order to better meet their needs, they undertake many initiatives.
A tournament for young football adepts - Number One Cup has been held at the Hotel Number One by Grano since 2018. It is a meeting of players from various European clubs, allowing for the tournament, but also for the integration of the community of young players. The initiative was created in a family-friendly hotel to promote an active lifestyle and make children's dreams come true. During this time, the hotel was put into the exclusive use of the youngest several times, which was a great, passed test for a family facility.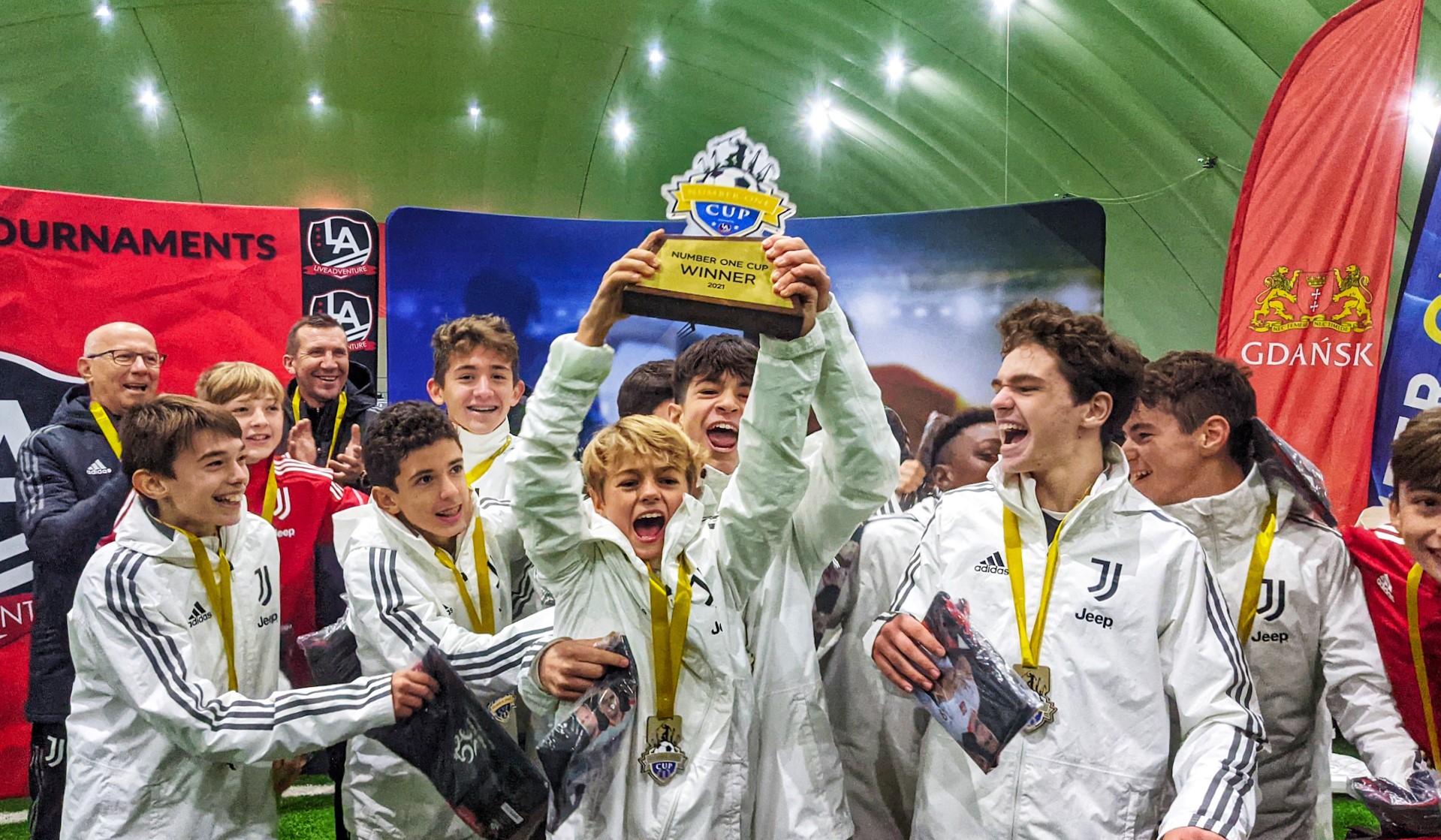 Photo: Joy after winning the Number One Cup tournament in Gdańsk
Jumpcity - jump for the joy of being together
If you are wondering about an interesting and active attraction, e.g. in the context of the upcoming Children's Day or the holiday season, I confidently recommend you a paradise for the youngest and the slightly older ones. I am talking about Jumpcity Gdańsk, the largest trampoline park in the Tri-City, located on the main communication artery (road and rail).
At this point you can vent your emotions, accumulated energy and feel like acrobats, freestylers and other lovers of sky tricks for a moment. And if you prefer to watch these stunts rather than perform them, Jumpcity also has huge sponge pools and a food court. Something for everyone.
A few words at the end
Probably each of us imagines holidays with children a bit differently. For some, it will be long walks in the city or park, visits to the zoo and museums. Others will hide for days on the beach, building sandcastles with a spatula in one hand and a waffle in the other hand. No matter what we do, we all want this time to be as family-friendly as possible, full of smiles and good memories. And that's exactly what I wish you.
Photo: Family fun on the beach in Gdańsk
Check out the other blog posts: