There are only a few weeks left until the holidays! Spring sun is slipping into our bedrooms earlier and earlier, reminding us that it's high time to plan your vacation. Many of us will go on a trip with loved ones: spouses, partners, children, parents, with friends or solo. But, but - are I sure to mention all those who are happy at the thought of rest, carefree, beautiful views and being by our side? Definitely not!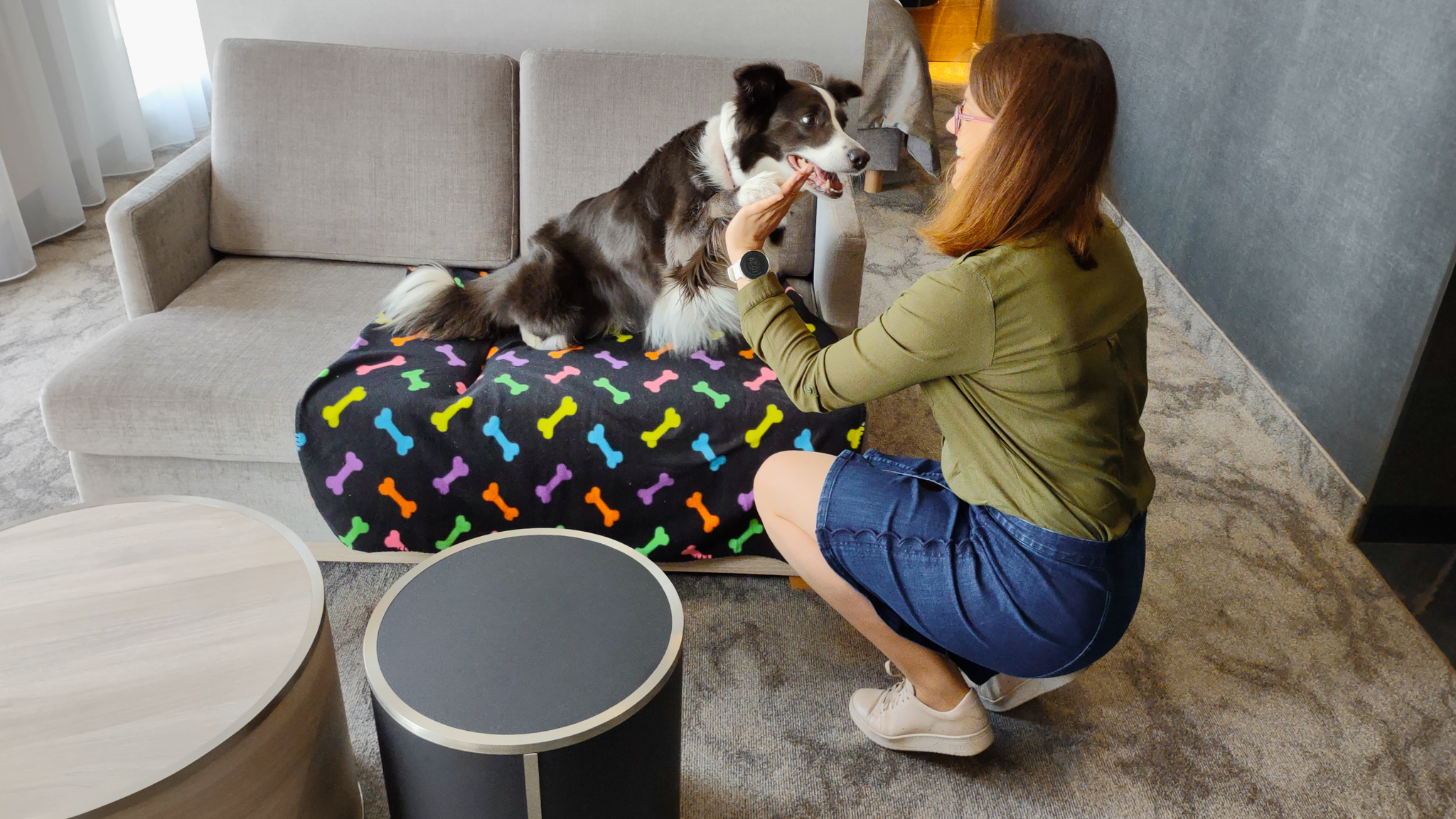 Photo: High five! Welcome to the Hotel Grano
Wet nose and a wag of a tail
These are the terms that most often come to mind when we describe our best friends, faithful companions of joy and sorrow. Azor, Burek and every other Fafik stay in our hearts for good. Many dog owners also plan their holidays for their four-legged family members. Personally, I know a large group of dog lovers who cannot imagine holidays without the proverbial hair in their coffee and clothes. Fortunately, the world comes to meet us and there are more and more dog-loving places where we can rest. These are not only campsites, summer houses and private accommodation, but also hotels, including luxury ones, that can pride themselves on being dog friendly.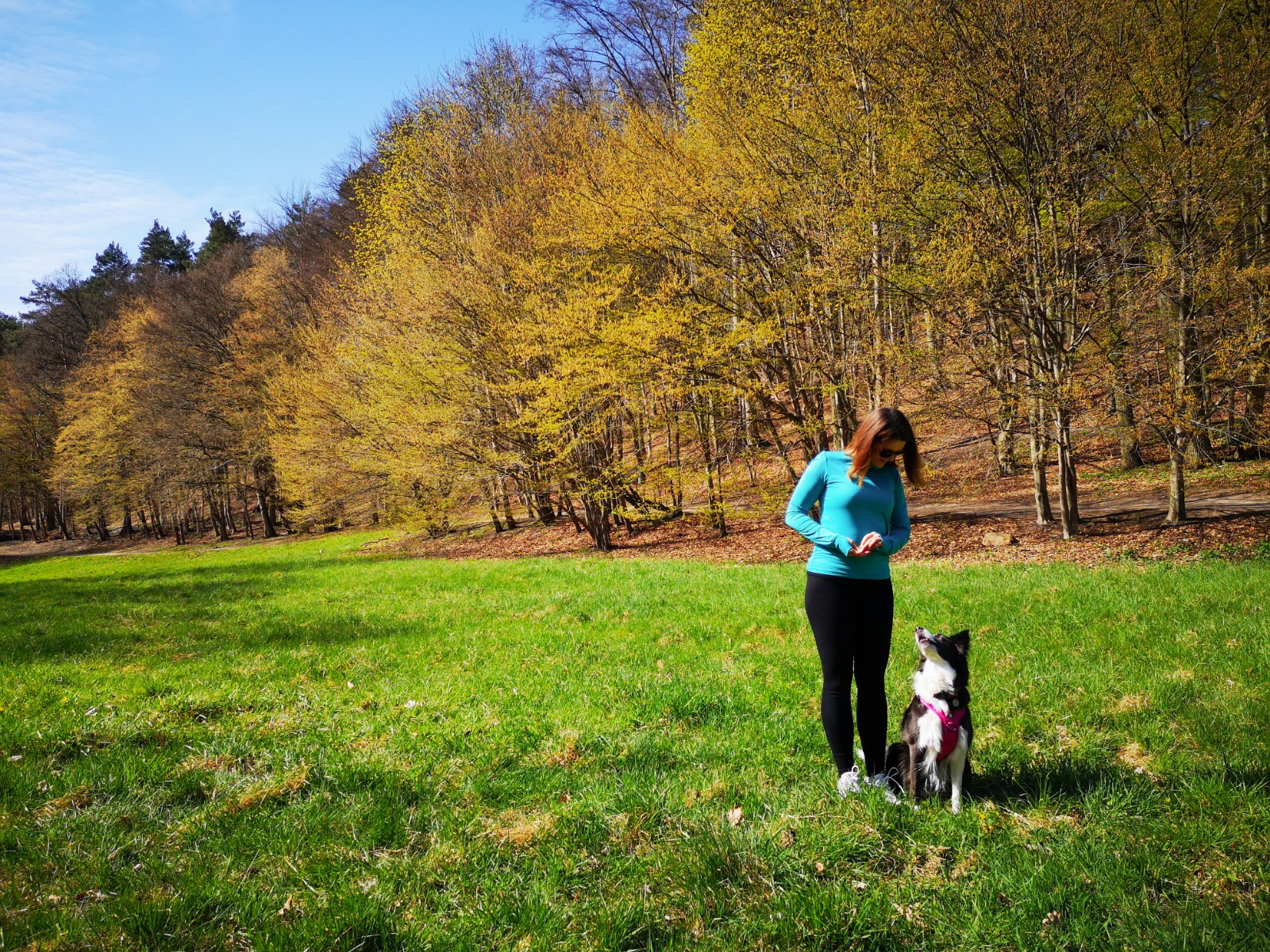 Photo: Training with a dog in the Tricity Landscape Park
The first step is behind us
Home office, closed gyms, more time for family life, getting closer to nature, the need for outdoor activities - all this became an impulse for the decision to buy, adopt or adopt a dog that was postponed. At every step, we can observe the dynamically growing number of dog owners. For many of us, the first holidays are coming, in which we will also think about Pimek or Funi. And as there is still some time left until the end of June, we can better prepare for the voyages so that all participants will return with wonderful memories.
Photo: Walk with a dog in the Tricity Landscape Park
Know how! Hau, hau…
For over four years I have been a carer and guide for a beloved, but at the same time very demanding border collie - Inari. From the ninth week of her life, we tried to travel together by various means of transport and for various purposes. I will try to introduce you to the knowledge I gained during this time. I present my subjective views and experiences - they cannot replace the advice of a vet, behaviorist or daily observation of your own dog. However, they work well with us and other dogs we know.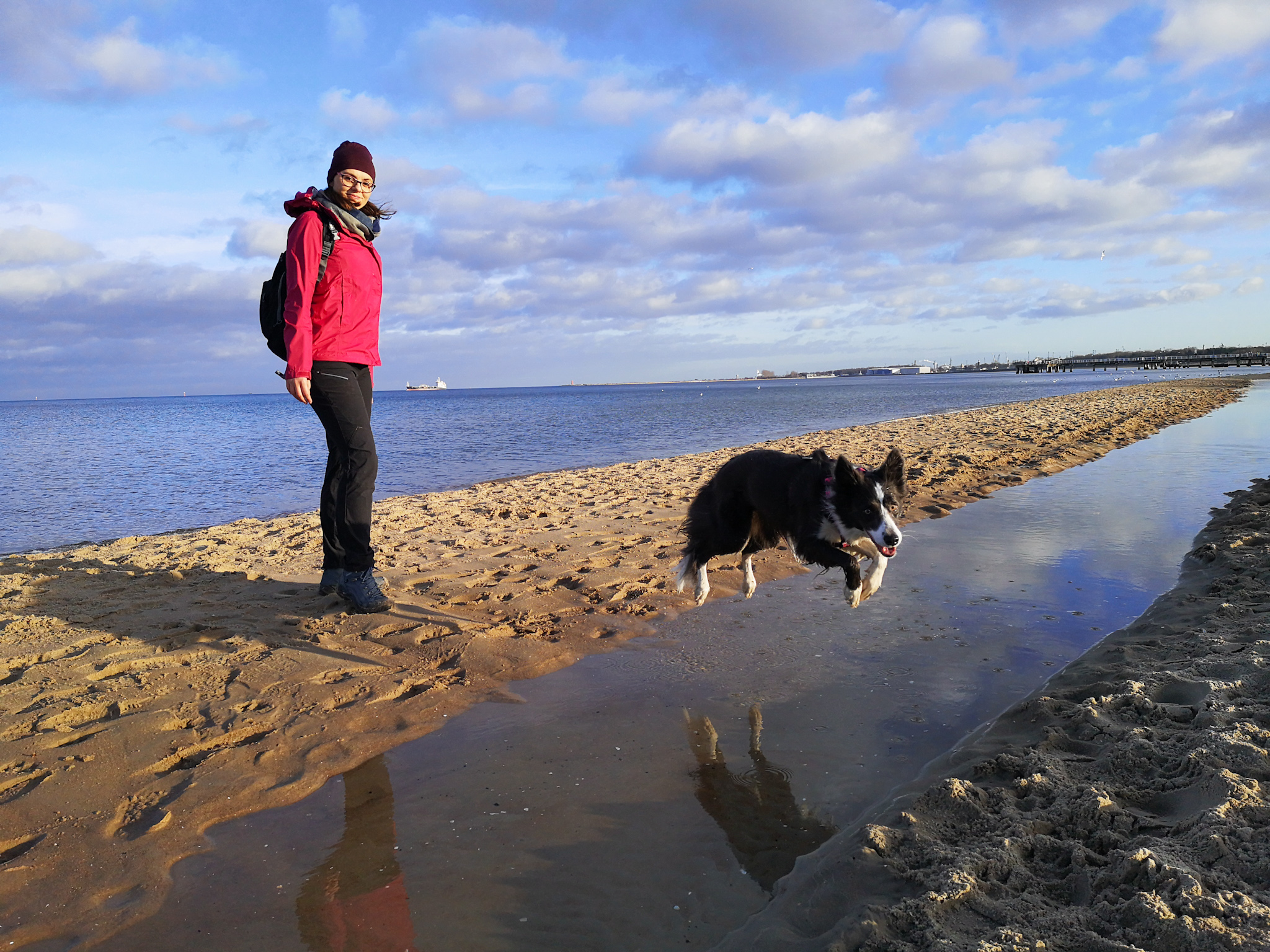 Photo: Walk on the Dog Beach - checked!
Let our furry friends get used to...
... car, train, bus - exactly the means of transport you will travel by. It is worth preparing our dog for a longer journey by organizing a few or several minutes' ride in a friendly atmosphere. Instead of going on a long journey by car, let's go to a nearby park first; Instead of traveling all over Poland by train, let's check if the dog can last three stops. This will allow the dog to get used to the situation, and if we teach him that such a trip ends with something nice, e.g. fun, a trip to an interesting place, meeting dog buddies, there is a greater chance that he will like it.
Motion Sickness: Dogs also have motion sickness. It's worth checking Rex's reaction and taking the vet's advice before we set off on a several-hour tour.
Safety: remember to transport our dogs safely, especially in the car. Certified cages are a good idea. During an unexpected traffic incident, an unsecured dog lying on the seat is a threat not only to himself, but also to the driver and passengers.
... with a muzzle - learning to wear a muzzle can be fun, not just a chore. We just need a little time for this and usually… treats. We will need the muzzle, incl. on the train and in public transport, where we are obliged to secure the dog.
... the rhythm of the city - if you are planning a vacation in a large city or region attractive to tourists, you must remember that most likely you will not be alone there. So it is good to take our pooch earlier for a short trip, so that he can get to know the hubbub of your town center, observe the traffic, meet new people. Of course, we must remember not to stimulate our companion - for a dog's nose, ear and eye it is a much greater challenge than for ours, so it is important that after such experiences, he has a chance for silence and a more peaceful walk in a less intense environment.
... staying at home without an owner - more and more people work from home and spend most of the day with their dogs, not allowing them to stay alone in the apartment. In the context of going with the dog, however, it is worth rethinking this strategy, especially if you want, for example, to eat breakfast in the hotel restaurant. This requires our Szarik to be able to stay alone in the room, to be calm and relaxed in our absence. For many pets, the solution in such circumstances is the ability to sleep in a lair or in a cage, which we can take with us on a journey. Such a safe, previously known place, own "mink", allows the dog to recharge the batteries before the next exciting day, and gives the owner the confidence that if he is away with the dog for a few minutes, nothing bad will happen.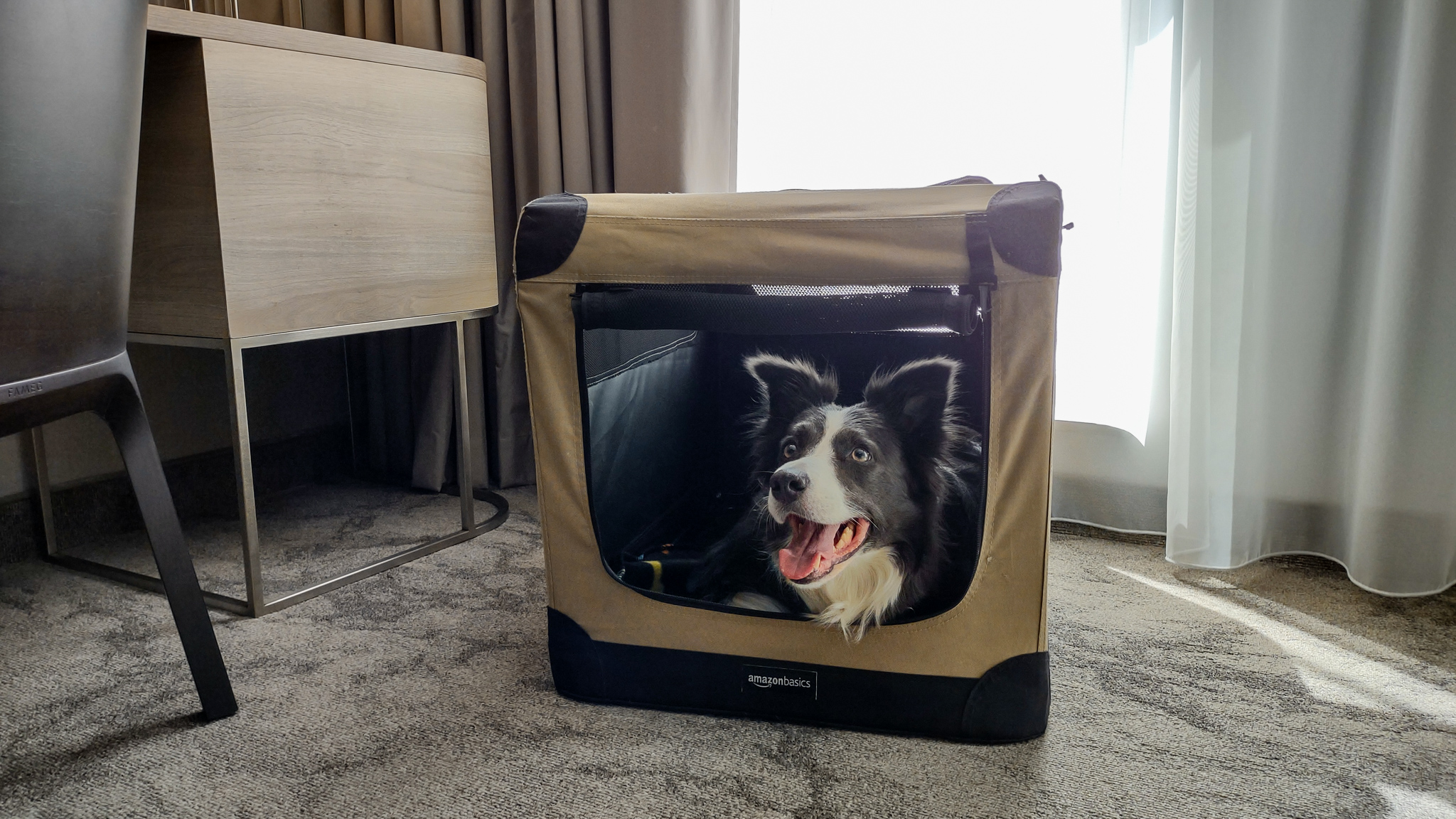 Photo: Own four corners in a hotel room
Don't forget about….
... taking a harness or a collar with a tag - it is extremely important for the safety of your dog! In a stressful situation in a new place, the dog may move away from us and be unable to return. The phone number on the address will help people who spot Saba contact us as soon as possible.
... a visit to the vet - it is worth checking if the condition and health of our pet is as good as we think. By the way, let's make sure that the rabies vaccination is valid, and if it is coming to an end, let us vaccinate the dog - it is our duty to be verified during the journey by public transport and at the reception. The veterinarian can also insert a chip that makes it easier to identify the pet if it unfortunately escapes us.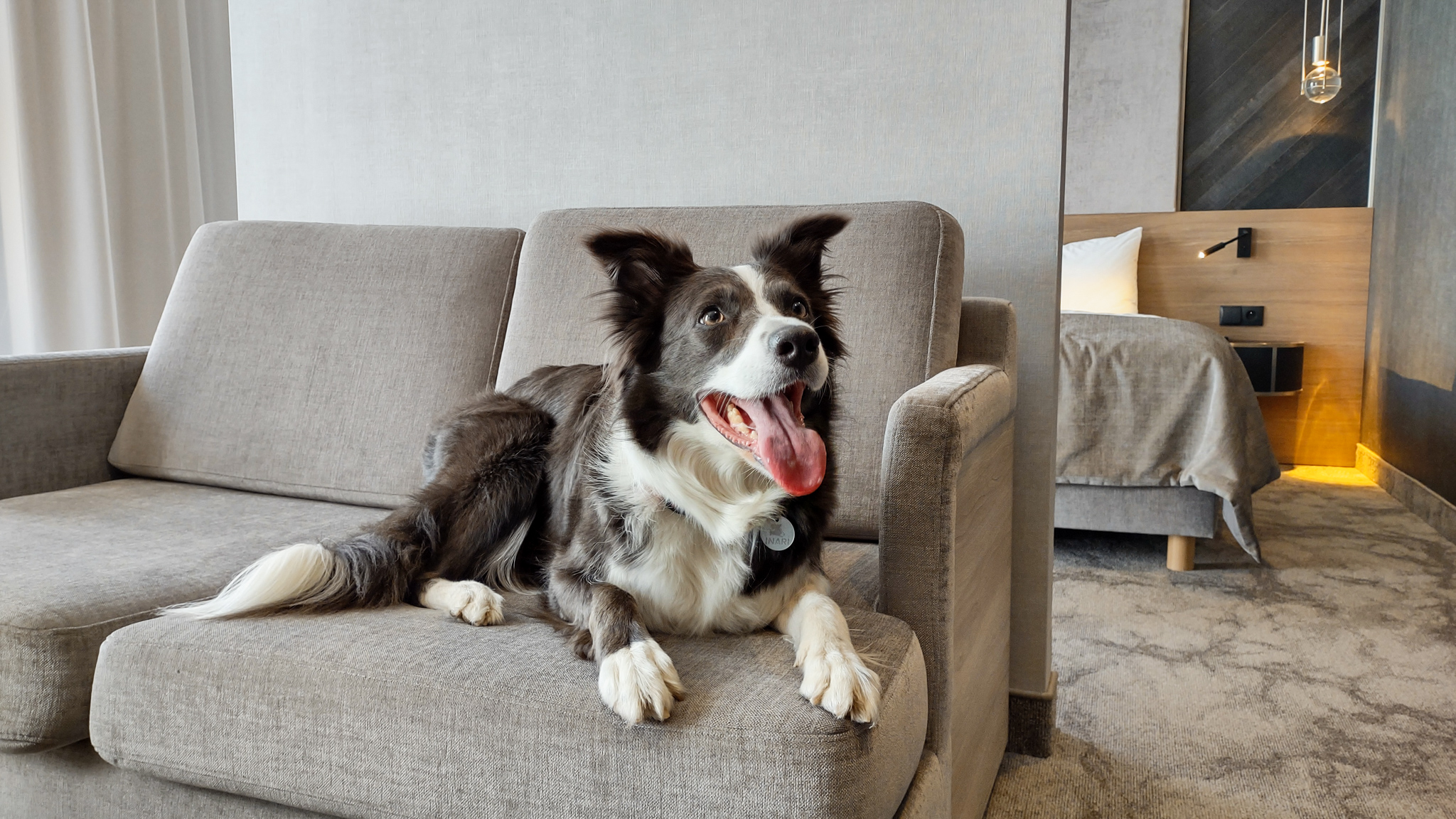 Photo: Quality controller delighted!
When you decide to spend a vacation with your dog and prepare for it properly, choosing where to stay for the night remains a key task. The room for maneuver is quite wide: you can go camping, to agritourism, a holiday resort, and also to a hotel. Importantly, more and more hotels, including those from the premium category, decide to host dog owners with their charges. Of course, when making your choice, you should focus on your own preferences regarding the location, standard of the facility or amenities. However, pay attention to a few additional aspects.
Photo: Hotel Grano - dog friendly!
One of them, widely commented on in the world of "dog lovers", is often conditional dog-loving - facilities such as guesthouses, hotels, restaurants or tourist attractions define in their regulations which dogs are welcome at their doorstep. Some of them accept only certain breeds, others set limits on the size or weight, others allow you to stay as long as you carry a dog on your hands or specify breeds of dogs that cannot be brought into their territory. Of course, they are guided by various considerations - usually it is guided by the care of the safety of other guests and ensuring their comfort of stay, because we must remember that not everyone is an animal lover.
Another aspect is the price and what it includes. Depending on the place, the price of the pet's stay may differ in height and what is behind them. These can only be the costs of additional cleaning after our pet's stay and preparation of the room for new guests, and they can be extended with some equipment, such as bowls, lairs, blankets, treats.
Before making a choice, it is worth getting acquainted with these criteria and also on the basis of them assess which of the objects corresponds to our assumptions.
Remember to inform the reception desk before your arrival about the presence of a dog during your stay, its breed, dimensions, attitude to other people - this may protect you and the staff from any surprises during check-in.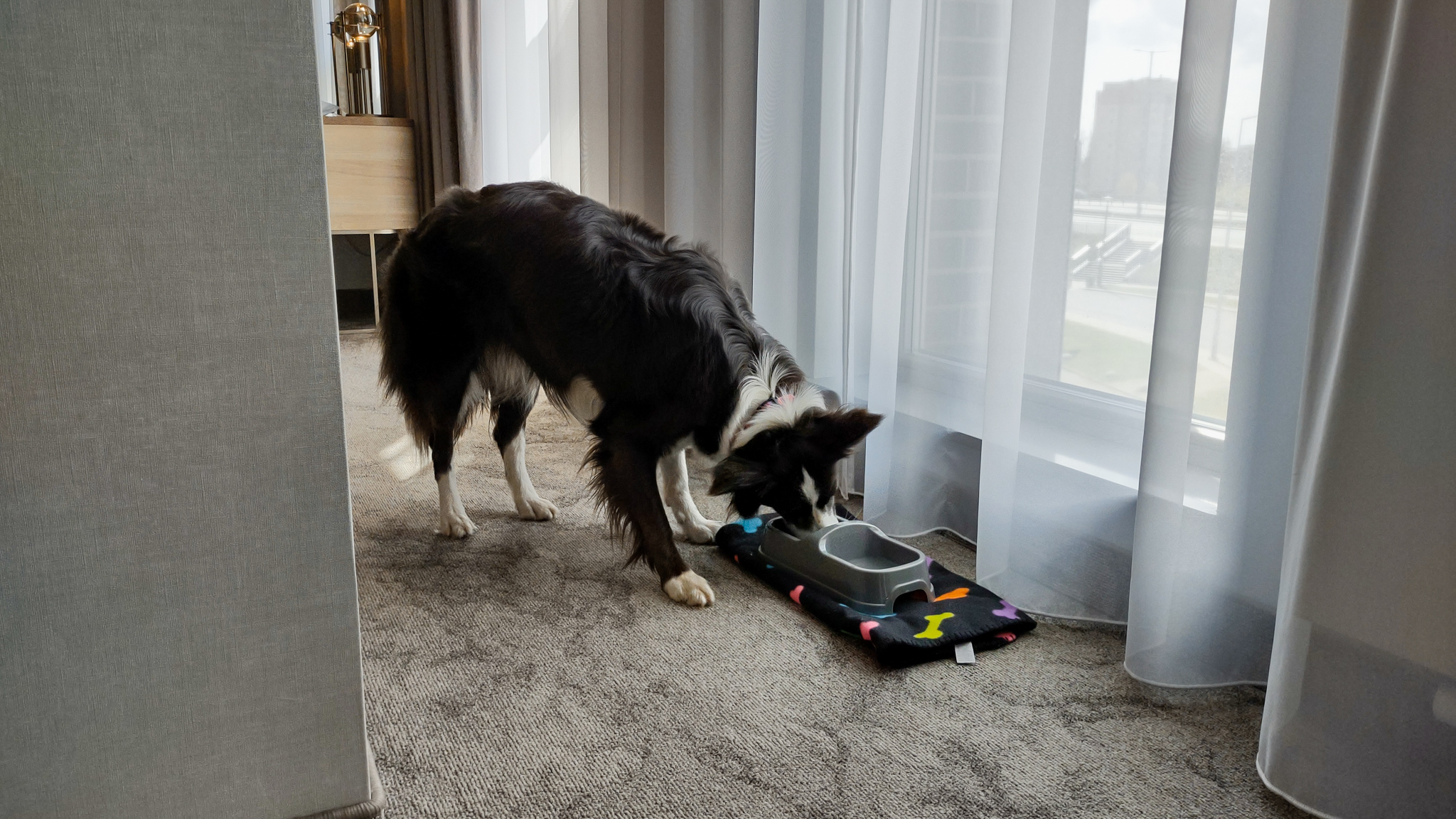 Photo: Set from Hotel Grano - first class!
A dog's suitcase, or what we should pack ... so that our things can also fit in the trunk
As a novice owner of a pooch, I took far too many things on joint trips for a few months - many times it happened that Inari had more gadgets with her than I did. Fortunately, with time I realized what really comes in handy and is such a must have for our travels.
Photo: Travel preparation is very important!
On the trail and on the promenade: I always take with me a comfortable, proven harness with a tag and a collar with a tag. In addition, a short leash and a long rubber rope. Sometimes I also choose a hip belt and a lanyard with a shock absorber for running or mountain hiking, when I need free hands to hold my trekking poles. With such a set, we are not afraid of a walk in the center and in the wilderness.
In order not to rumble in the stomach: Inari is a fan of the barf diet, so if there are refrigerators in a hotel or other guesthouse, I bring meat prepared for her with me; if there are no refrigerators, I take the proven dry food. For this, always natural teethers or the so-called congas that help the pooch calm down and relax after an eventful day, and give me the comfort to go down to breakfast without worries.
Noble health: I always have the health book with me, it is necessary when traveling by public transport, when checking in. I always check the validity of the rabies vaccination. In addition, if I am going to a more secluded place, I write down the addresses of 24-hour veterinary clinics or vets so that I do not waste time searching if necessary. It is also good to have a basic first aid kit, especially if your fur is sick with something.
Teeth under control: I always take a muzzle, if only because I have to travel by public transport. I choose the well-designed and fitted ones, that is, they allow me to breathe freely, open my mouth, and often eat some delicacies, which reward me for a polite ride.
My own four corners: when Inari was younger and traveling to new places, I tried to have a cage for her, which she also uses at home. It is her natural, safe space to rest and eat. Now, when she is older and more experienced, we do not always need her, but I know that she helps many dogs.
Where even the king goes on foot: since I do not know if there will be generally available means for collecting waste at my destination, I always take a supply of fecal bags with me. Sometimes I also bring my own towel to wipe the dog's paws (and belly and tail and back, yes, Inari loves mud) after a rainy walk.
Time for fun: a jersey, ball or other toy, and in exceptional cases, an old sock is what my dog ​​is waiting for the most! We always find at least a few minutes to play in the hotel room or take a walk for pure dog's pleasure. It helps to release our emotions and relax, and strengthens our bond at the same time.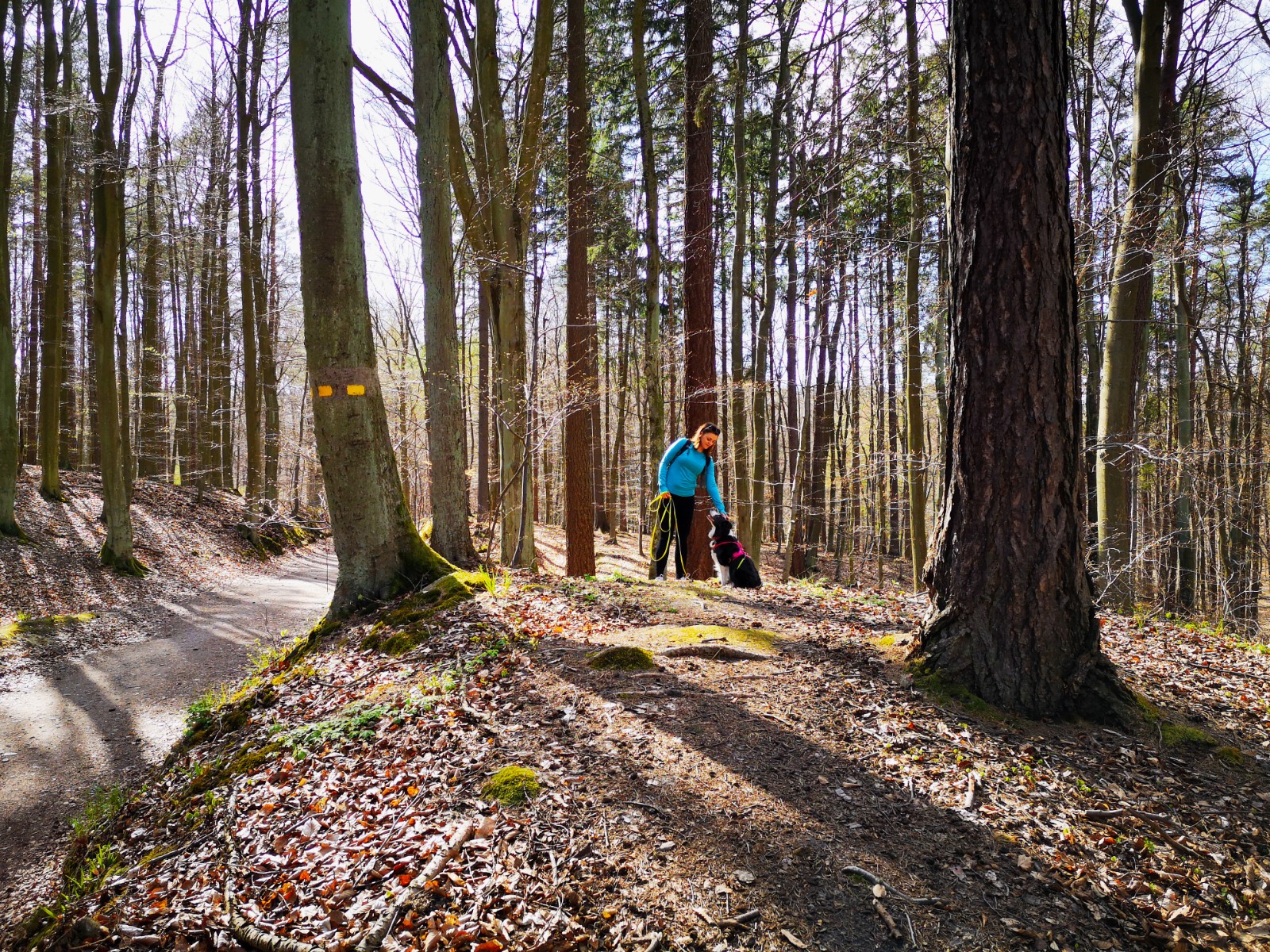 Photo: Spring sun in the Tricity Landscape Park
First sniff
We made a decision, we chose a hotel, we went on tour. The best is ahead of us! When we get off the car or train after the journey, let the dog explore the new area through the nose. Let's give him a few moments to familiarize himself with the area through the hotel and toilet. If our dog feels lost in a new place and we are not sure of his reaction, we can put a comfortable muzzle on him before we enter the building. During the check in, the receptionist will most likely ask us to sign the regulations for the stay of animals. It contains rules about what should and should not be done. After checking in, let's go to our room. Let's give the dog some time to get to know a new place and rest. After all, this room or apartment will become our new home for a while.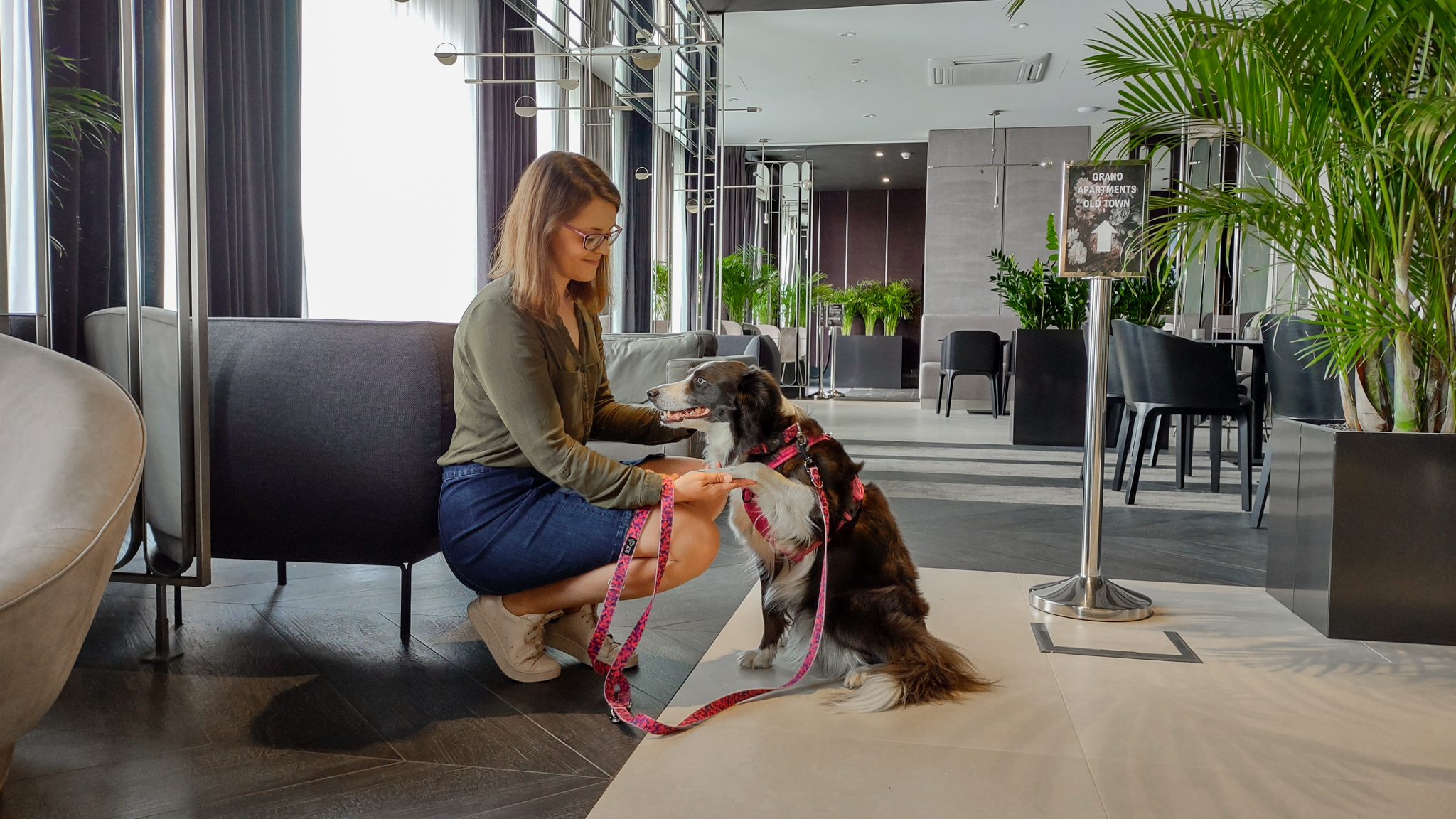 Photo: Dog-friendly lobby at the Hotel Grano
Savoir-vivre, or who is well-mannered, let him get his paw first
We are happy because we have several days of blissful laziness or active rest that we deserve. In Hawaiian shirts and sandals, we feel that we have won the lottery ticket. Being in a public place, remember that other guests also want to feel comfortable. For that to happen, let's make sure that our pooch:
- he was left alone in a room if he was taught to do so and felt at ease. If this is not possible, we can order room service, i.e. breakfast or other meal in the room,
- he was as quiet as possible - joyful barking in play, although sweet, let's leave it for later,
- walked with us in the common space, i.e. in the corridors and in the lobby only on a leash,
- was regularly taken to the dog's toilet to a suitable place. Let's remember about cleaning. If we have a mishap, e.g. in the room - let the staff know about it - the faster we act, the easier it will be to clean the atmosphere,
- he has a muzzle on if he does not feel confident and we want to be calmer,
- he was focused on us and did not accost other Guests, especially those who do not expect such contact. By the way, I would like to add that we, as guests, also should not try to contact a foreign dog without the express permission of the owner, because not all dogs want to be touched and stroked by strangers,
- he slept on his bed, although of course I know that 50% of the owners sleep with their pets in bed, and 50% do not admit it;)
- had a great dog holiday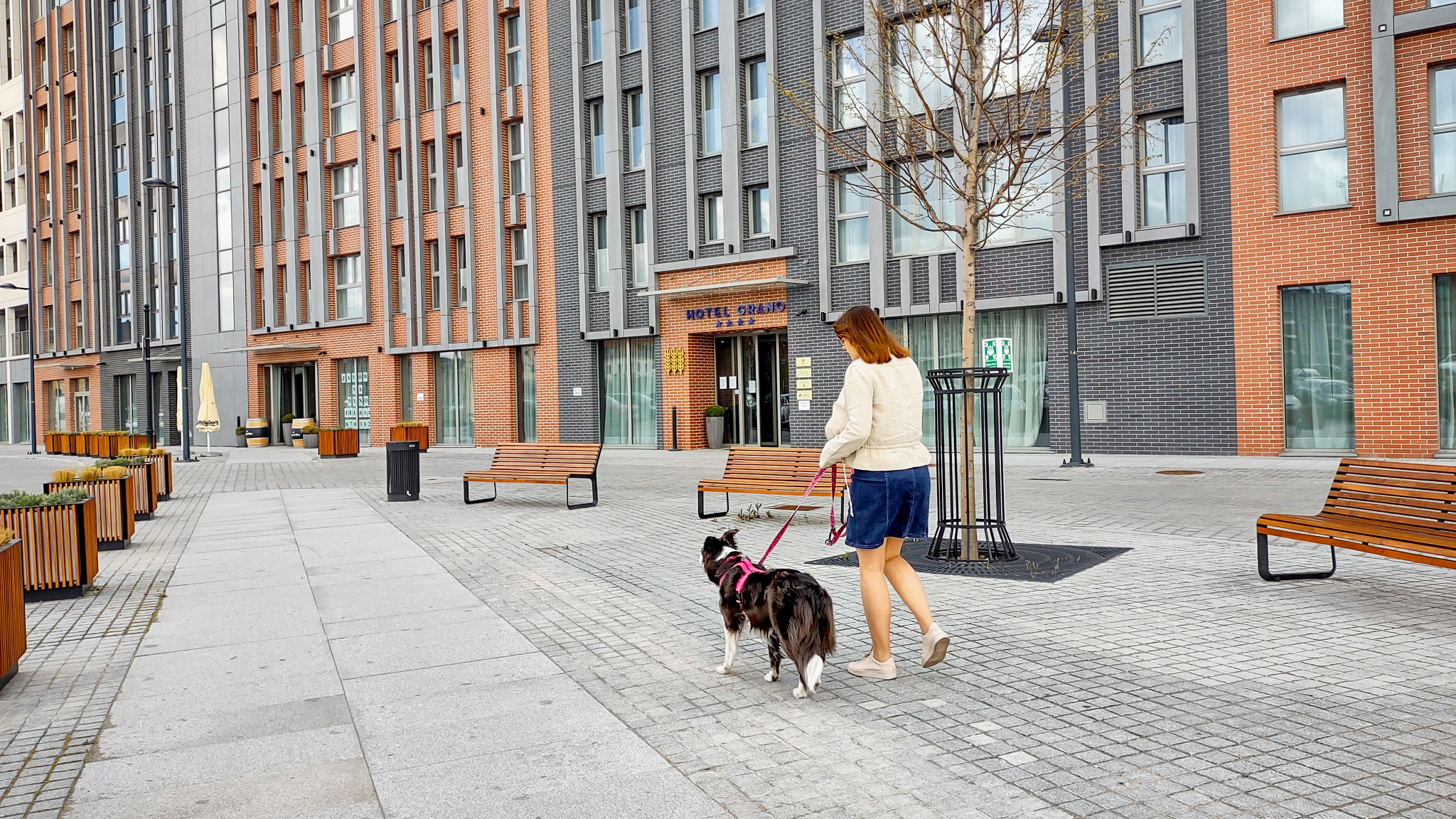 Photo: Walk around the Hotel Grano
A great dog holiday in the Tri-City
Holidays in the Tri-City are a good proposition for stays with dogs. In Gdańsk, Gdynia and Sopot we will find many attractions that should satisfy dog-human families with different preferences and temperaments. I myself encourage, incl. down:
- visiting Gdańsk's old town, Sopot's "Monciak" and Gdynia's seaside promenade in the morning when there are still few tourists on the streets
- visiting dog beaches, incl. in Gdańsk Brzeźno or Gdynia Kolibki - in these designated zones, under the care of the owner, dogs can run without a leash
- long walks on the beach - in Gdańsk, apart from the guarded bathing areas, you can walk along the seashore with a dog on a leash all year round
- walks around the entire Tri-City Landscape Park - there are really huge spaces at your disposal, allowing you to learn about the specific terrain and the beauty of flora and fauna
- visiting numerous parks, such as Reagan Park, Oruński Park, North Park
- take advantage of the offer of dog-loving eateries, such as the Whole Gaweł and the Blue Pudel Pub in Sopot; The beaten Gary, Pueblo and Bar Karmazyn in Gdańsk and Czerwony Piec or the Tłok cafe in Gdynia.
Photo: A walk with a dog in Gdańsk
Remember that it is also up to us - dog lovers - how many new places on the map will be dog-loving and will believe that a dog in public space is an eye-friendly sight.
I hope you will be tempted to go on holiday with your pet this year, and your holiday will be exactly what you dreamed of. Dog life can be very enjoyable.
With greetings,
Daria and Inari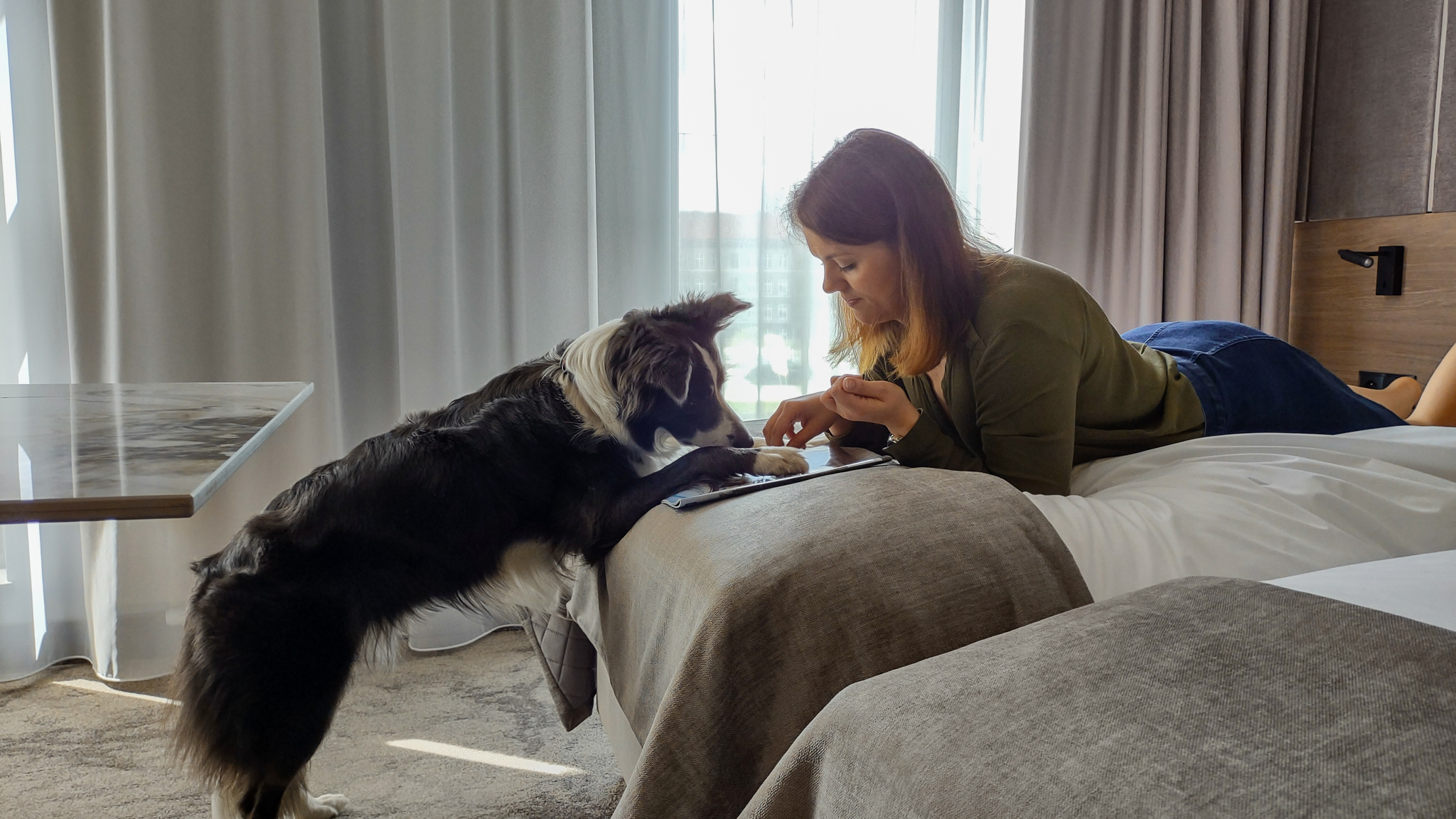 Photo: Afternoon press review in a hotel room
Check out the other blog posts: