Easter is coming. Looking at the increasing number of Easter offers in hotels and how many of us actually decide to spend this time taking advantage of tourist offers, I think we can confidently admit that Holy Week, but above all the period between Holy Saturday and Monday Easter, it becomes a great opportunity to catch your breath. Slowly, Easter away from home - with family or on the contrary - is gaining the name of a new tradition.
And I understand it perfectly. Easter, in addition to religious aspects, is already associated with spring and the next awakening of the natural world. And we - hungry for sun, fresh air and rest - willingly combine the Catholic celebration of the paschal mystery with the tangible world of the first blooming flowers, buds on trees and singing birds.
I was wondering what I would like to tell you about in this article and I came to the conclusion that I would write about what I have been doing for many years on Easter Sunday or Monday. Last year and the upcoming holidays, I was and will be accompanied by my closest family. The fact how happy they are spending Christmas in the Tri-City and how many people we meet on our Easter path makes me think that many tourists feel the same way.
That's why I invite you for a walk to the sea ;)
Photo: A family walk on the beach in the Tri-City
Active Easter by the sea
I know that each of us has different physical capabilities and what for one is the beginning of a walk, for the other will be a challenge. I am also aware that families with small children, people with disabilities, dog owners - basically each of us - will have different needs. That's why I chose a walk along the shoreline, because depending on the strength and willingness we have, we can start it in different places and finish it in many places, and make and change the decision, depending on what will play in our soul on a given day.
I will present the longest variant, nearly 15 km long. So it's the perfect walk for a festive Sunday or Monday, when we can reserve more time for activities. However, I will describe it in stages so that you can assess how many and which of them you are most interested in ;)
Photo: Sopot beach from a bird's eye view
A walk along the Gdańsk beach
We start the walk from the pier in Gdańsk Brzeźno. There is a large parking lot nearby (for those of you who plan to return to the starting point) and a tram stops, which will certainly make it easier to organize a trip for people planning to go where their legs will carry ;)
The historic pier was built in 1900 and was 100 m long. The current one was built in the mid-1990s and is an extension of Aleja Jana Pawła II. It is longer than the original – it is 136 m long and over 7 m wide. Admission to the pier is free, which certainly affects the fact that it is a walking destination for many Gdańsk residents and tourists. I cordially encourage you to start your walk from its planks. You can also take a book or an audiobook and relax on the benches overlooking the bay.
Depending on your preferences and possibilities, there are at least two options for moving towards Sopot and Gdynia. One of them is a wide, sandy beach - which I encourage you to do. Along the way, you can try to find ambers or prettier shells. Although it is enough to enjoy the silence, the sound of waves and the cry of seagulls.
Photo: Brzeźno Beach in Gdańsk
Alternatively, the very pleasant President Ronald Reagan Park stretches along the beach. On its premises there are two water ponds, a skate park and a playground for children "Land of fun". All this enriched with bicycle paths. Art lovers can also see the exhibition of sculptures made of Kashubian granite "Wielcy Gdańszczanie".
Reaching the Jelitkowo district, both by the beach and the park, we will reach the Jelitkowski Park. If you are tired, I encourage you to try (if it is open, but I expect it to be) fish in the traditional Bar Karmazyn. I hope that you will not be disappointed, like many people who accompanied me during a tasty meal in this place.
If you have the strength, heading north, you will soon reach Sopot. And those of you who prefer to rest can go to the tram terminus, from which trams depart to many districts of Gdańsk.
With a brisk step on the Sopot sand
Borders in the Tri-City are easily blurred. Entering Sopot, you will find yourself in the Sopot Wyścigi district. As the name suggests, relatively close, heading towards the SKM (Fast Municipal Railway), you will reach the Sopot Hippodrome, a horse racing track. The history of this building dates back to the second half of the 19th century. And although there will be no competition during Easter, if you plan to finish your walk, it is worth going to the Hippodrome and walking around this large, green area, where every year in June the world's highest rank show jumping competition (CSIO5*) is held.
However, if you prefer to go further along the sea, you will pass the equally iconic Bar Przystań on your way. In this case, I also recommend a tasty fish, if only there is an opportunity.
Going further for several minutes, you will reach one of the most recognizable attractions of Sopot - the Sopot pier - the longest facility of this type on the Baltic Sea. Nearly half a kilometer long, the pier is visited by many tourists. The first such facility was built less than 200 years ago. The current one has been renovated relatively recently. A marina was added at that time, where really impressive yachts moor in the summer. As the walk was over 5 km long, resting on the white benches, overlooking the historic Grand Hotel, can be a very pleasant break to catch iodine. What is important - from 07/04/2023, admission to the pier will be paid.
If you want to finish the walk, it is worth going "up" along Bohaterów Monte Cassino Street, the so-called Monciak, which is - next to Krupówki in Zakopane - the most famous promenade in Poland and reach SKM, and by train to Gdańsk or Gdynia.
Photo: Bohaterów Monte Cassino Street in Sopot
Fans of walks, however, can go further. In Sopot, I encourage you to take a walk along Park Północny, one of my favourites, probably even my favourite. It consists of the older part, located by the pier and the Grand Hotel, and the younger part - a suburban grove leading towards Gdynia, which underwent a thorough renovation several years ago. What I appreciate about it are the collision-free paths for pedestrians, cyclists and rollerbladers. Residents and tourists can see on spring and summer afternoons how smooth traffic flows there and how easy it is to get active in the immediate vicinity of the sea.
Last but not least, and especially in spring, the park has several dozen species of trees and many protected plants, so a walk is even more appealing to nature lovers.
Photo: Sunset, Pier in Sopot
In the city of the sea and dreams
The border between Sopot and Gdynia runs on the Swelini River. And although it may seem unbelievable - this short stream has a mountain character! This emphasizes how unusual the Tri-City is.
Gdynia "begins" the so-called dog beach. So don't be surprised by pets running without a leash and fetching balls from the water. And if you have your own Burk with you, the opportunity to have fun is excellent.
Heading towards the city center, on the way we will reach the third pier. The pier in Gdynia Orłowo is about 180 m long. It offers a very nice view of the Orłowo cliff, and looking in the opposite direction, we will see how far we are behind us ;) The entrance is free and I strongly recommend it, because Orłowo itself is a really nice place area and it is worth stopping here for a while. It is also easy to walk along Orłowska Street to reach the Gdynia Orłowo railway station and from there return towards Sopot or Gdańsk.
However, I encourage the most persistent ones to continue walking along the beach. And although a few days ago there was information about the sliding of a part of the cliff in Orłowo, if the situation does not deteriorate, I think it is worth walking past it (or alternatively, up the path in the Kępa Redłowska Reserve). This is one of the few places in Poland where we can observe a living, working cliff, subjected to sea abrasion (washing out by waves), which is an amazing lesson about the power of nature.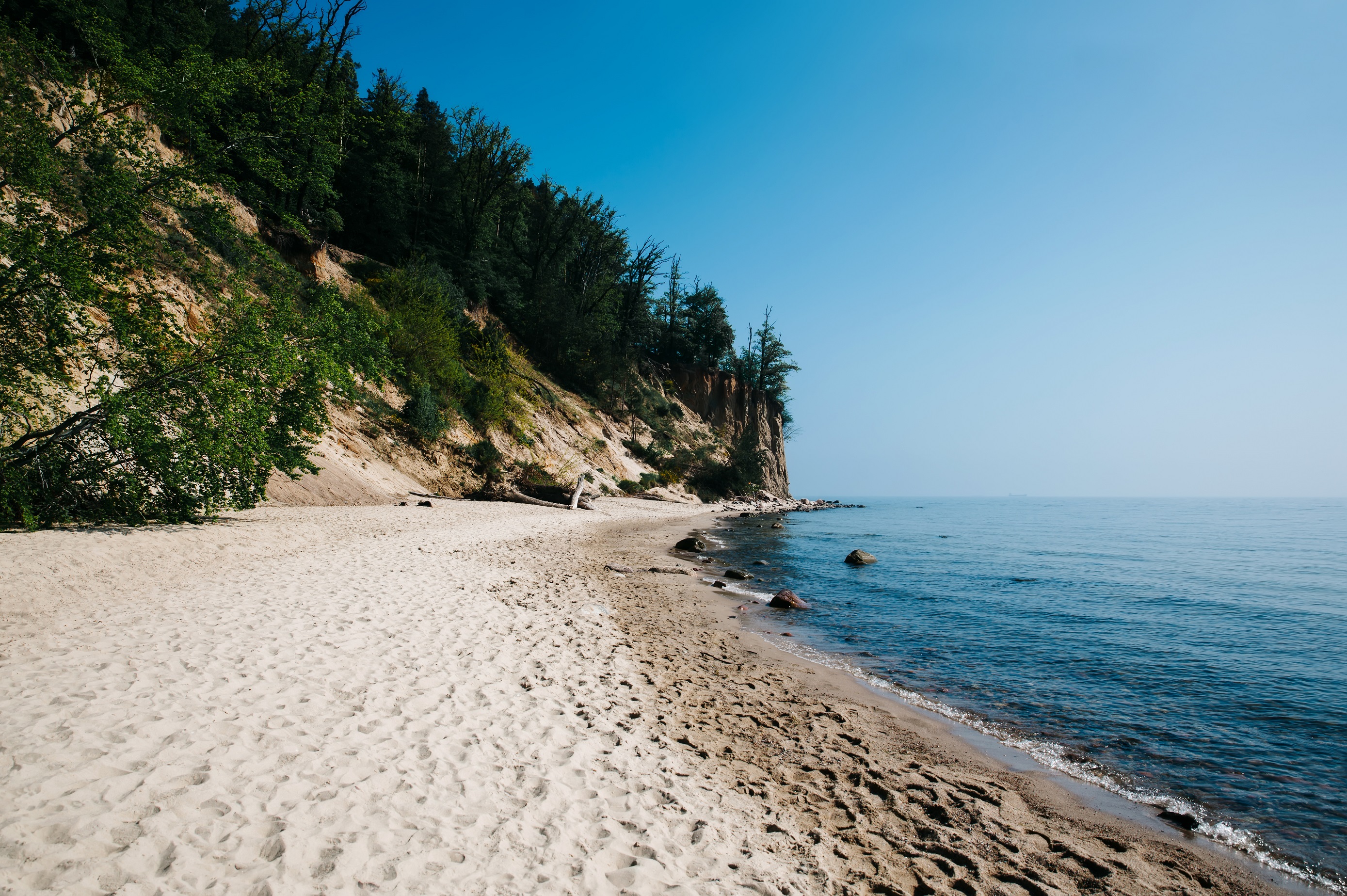 Photo: Cliff Orłowski in Gdynia
Heading towards the city beach in Gdynia, you will walk along a really pleasant promenade, i.e. the Seaside Boulevard, which is the most popular walking route in this city. The promenade is about 1.5 km long - looking from the side of Gdańsk from which we came, it leads from Polanka Redłowska to the downtown beach. Its history dates back to the interwar period, and apart from its walking function, it also serves as a breakwater protecting the shore against Baltic storms.
And well - about 15 km behind us. And for those who still don't have enough - take a ride along Kościuszko Square and Aleja Jana Pawła II, because at its end there is an unusual ship-museum ORP Błyskawica and a ship-museum Dar Pomorza.
The best return option in this case will be an SKM trip from Gdynia Główna to Gdańsk.
Photo: Dar Pomorza in Gdynia
Best wishes for the end
And although this year I did not present a typical Catholic celebration of the Easter period, I hope that in addition to religious celebrations and more traditional proposals (like those I presented last year), you will find time for yourself and your loved ones to get some air in your lungs and look with optimism at the world around us. Especially when it's as amazing as the one in Tricity.
Check out the other blog posts: